EN Publishing are taking pre-orders on hardback of Rogue Trooper.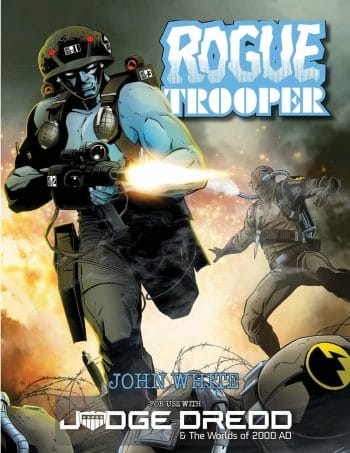 There's a format option on the pre-order page. If you pick Hardcover, then you'll get the PDF version for free, and then the book when it ships later in 2020. Or you can drop the price and select the PDF to receive the already available digital edition.
Rogue Trooper is a comic book created by Gerry Finley-Day and Dave Gibbons and published in 2000 AD.
The RPG is part of EN Publishing's Judge Dredd & The Worlds of 2000 AD license they have from Rebellion. You require a copy of those Judge Dredd core rules to use Rogue Trooper.
The comic follows a GI, a Genetic Infantryman, a blue-skinned super-soldier created by Souther Confederacy of Nu-Earth. It's a gamble, the Southers are losing the war, outnumbered and outgunned by The Greater Nordland Republic. A single GI can turn the tide of a battle, but the initial deployment is betrayed, and the Norts ambush the new troopers.
The RPG is set against the backdrop of the toxic war between the two factions of Nu-Earth and adds new species like Genetic Infantryman and Srigoi to the World of 2000 AD ruleset.
You can pre-order the campaign setting from EN Publishing's online store.
Scroll down to the comment box below to join in the discussion.