Pinnacle's Dawn of the Daikaiju is coming to the virtual tabletop Roll20.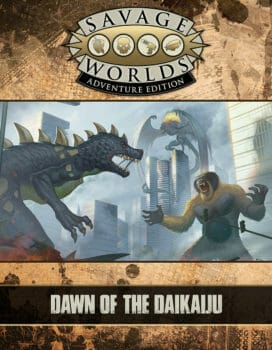 A blog post today from Scott Woodward confirms that the Savage Worlds RPG is one of the many Pinnacle RPGs heading to Roll20 after the publisher ended its exclusive deal with Fantasy Grounds. PEG projects are still on Fantasy Grounds, and Savage Worlds is popular there, it is just that the publisher's games are now also becoming available on Astral Tabletop and Roll20.
Earlier this month, Sean Owen Roberson and Kevin Siembieda confirmed that Rifts for Savage Worlds would also be heading to Roll20.
Dawn of the Daikaiju has players in the role of giant monsters or kaiju/daikaiju. While these towering monsters can have very different appearances or even come from different planets, they instinctively seem to recognise each other as the same species. However, kaiju from off-world tend to work in packs together and not for the good the local monsters.
Dawn of the Daikaiju contains a Plot Point campaign, an adventure generator, new Edges and Hindrances and adapted race creation rules for Savage Worlds that works on the kaiju scale!
There's a free to download 16-page supplement in the form of Dawn of the Daikaiju: Archetypes & Flat Figures which has six pre-generated monster PCs for the 1953 setting and tokens.
The Roll20 version of Dawn of the Daikaiju will come with the Archetypes & Flat Figures built in which will give players and GMs immediate access to tokens and maps for the setting.
Are you already playing Dawn of the Daikaiju? What's it like roleplaying as a giant stompy monster?