Dark Horse has announced Critical Role: The Chronicles of Exandria–The Mighty Nein (Deluxe Edition) which is now available for pre-order on Amazon, at local stores and Barnes & Noble.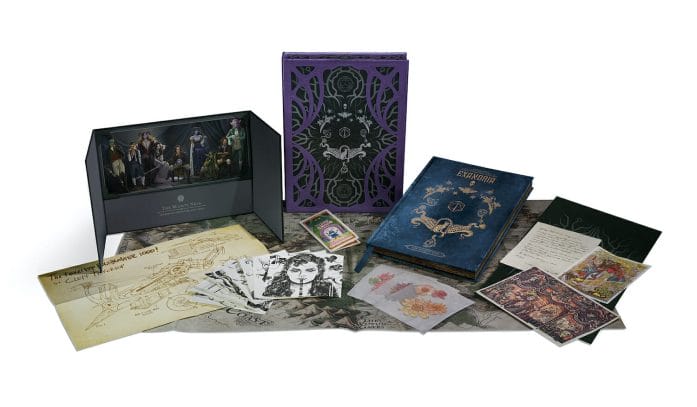 The art book covers the second campaign from Critical Role featuring 264 pages of art from the fan community along with commentary from Liam O'Brien, Taliesin Jaffe, Dani Carr, and the cast of the popular D&D actual play stream.
The Deluxe Edition is not cheap, with the oversized hardcover coming in at $124.99. The faux-leather and foil-stamped cover book and annotated map of the Dwendalian Empire, lithograph, character sketches, flyer for the Fletching & Moondrop Travelling Carnival of Curiosities and an invitation to the Lavish Chteau and blueprints for the Tinkertop Bolt Blaster 1000 comes in a clamshell box featuring art by Lauryn Ipsum, designed by Cindy Cacarex-Sprague.
The map of the Empire is by Deven Rue, and the triptych-style lithograph has art by Sam Hogg. Nick Robles is the artist of the Mighty Nein character sketches, and Will Kirkby did the flyer for the Carnival of Curiosities.
The impressive bundle will start to ship November 10, 2020.
Check the comments below to see what readers have to say.