🐙Sponsored Post paid for by Geek Native. We may earn a commission on sales.
Joining the cool cats with a Redbubble store (hint) PEG, the makers of Savage Worlds and Deadlands are now selling some branded merch.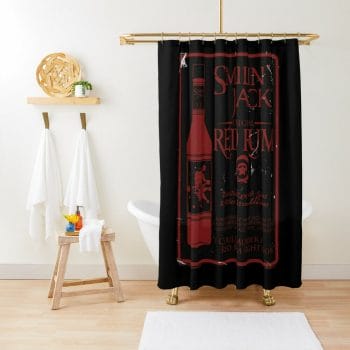 A growing number of RPG publishers are doing this, and I think it makes sense. If you're paying for cool art, and have the commercial agreement with the artist in place, then why not make the designs available as t-shirts, bags, stickers or even phone cases?
PEG's Shane has started the store, it seems, carefully with only a handful of designs on just a smattering of the various products Redbubble can print on to.
Examples include this Savage Worlds travel mug, Red Rum shower curtain and Joker art print.
Yeah, you can get shower curtains with your favourite designers' work to distract you while you washup. It's absolutely the image I'm going to use to illustrate this blog post. In what another hobby could you get anything so unique?
Redbubble recently added pin badges to their list of supported merch options. Geek Native and other venders should have a relatively straight forward task of adapting artwork already uploaded to the site for the badges to make them available to customers.
Keep scrolling to discover what others think about this article.