Pinnacle Entertainment has put together this Helpin' Hands Bundle and in you'll find a digital copy of the Deadlands Reloaded setting book "Deadlands Marshal's Handbook – Explorers Edition" and the "Deadlands Player's Guide".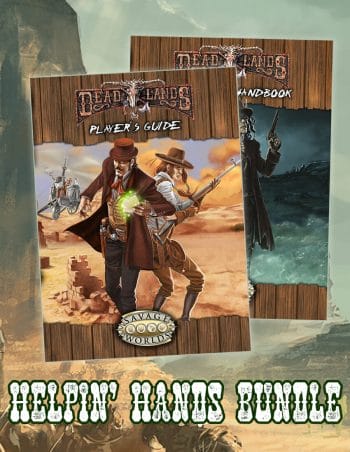 The publisher, like many others, is stepping up during the Covid-19 pandemic to make sure fans have something to do while trapped at home.
Fantasy Grounds is PEG's partner for online virtual tabletop play and get an early mention in the bundle.
There is a new Deadlands in the works and, hopefully, this generous freebie will whisk up interest for the incoming game.
It's also worth noting that even together, these two books are not a complete game. You will need a copy of the Savage Worlds core rulebook to play.
If you're a bit behind on your Savage Worlds editions, then PEG provides another free to download goodie in the form of the Savage Worlds Deluxe to Savage Worlds Adventure Edition conversion notes.
In the meantime, you can grab your helping of the Helpin' Hands Deadlands bundle here.
Don't miss out on the conversation at Geek Native. Leave an insight in the comments below and get to know people.