Obscura is a comic about death and photography. The connection between death and photography isn't as obscure as some people might think.
Written by Luke Cartwright and illustrated by Lukasz Wnuczek, Obscura is a 192-page project that took eight years to complete.
As someone who struggles to plan his week, I had one immediate question for Cartwright when I heard how long he and Wnuczek hand been working on it. How do you stay true to your vision?
I got my answer.
The vision can shift; in fact, it probably should. How do you remain interested? I think it comes down to the idea. Some ideas are just powerful. By the time I figured out the premise of Obscura, I was obsessed. I couldn't stop. I think as creators, we have to wait patiently for ideas like that, and not settle for anything less.
And Obscura is a comic that will give you answers. Eventually. You see, it's a sly thing. You might be a dozen or so pages into it when you first might think you know where the plot is going. Maybe you're right, perhaps, like me, you've been lured into thinking the rest of the story is a foregone conclusion. It isn't.
Before I even got into the comic, the introduction had me on Google, and it was a good thing I did. We're told this story is set in Van Dieman Land, which is now known as Tasmania. Now, in real life, Van Dieman Land was the penal colony for Australia from about 1800 to about 1850. A few years after that practice was stopped the island was renamed. So, in other words, there's a lot of potential criminals and theoretically dangerous people in Obscura's version of Van Dieman Land.
Obscura starts in 1870 and with a funeral. We quickly meet the kids, one of which is the undertaker's son and two sisters who can see the dead. It's a rough time for such innocence.
So why death and photography? Once again, I was able to put that direct question to the author.
The Victorian era was marked by death. It was everywhere. The Victorians were comfortable with death in all the ways we are not. I knew that I could exploit that chasm.
It was also a time when technology was advancing, while people's understanding of science wasn't, necessarily. People would see new inventions like the camera and wonder what it was capable of.
I think that Victorian sensibility is important to Obscura. There's a sense of right and wrong that's seen in public. There's also the suspicion that things are different behind closed doors.
That's where the new technology comes in. Photography has the potential power to capture the truth of things and perhaps that's a challenge to the Victorian veneer. That's a timely debate for today where, once again, we have rapid advances in technology, new forms of media, that are challenging and changing our contemporary culture.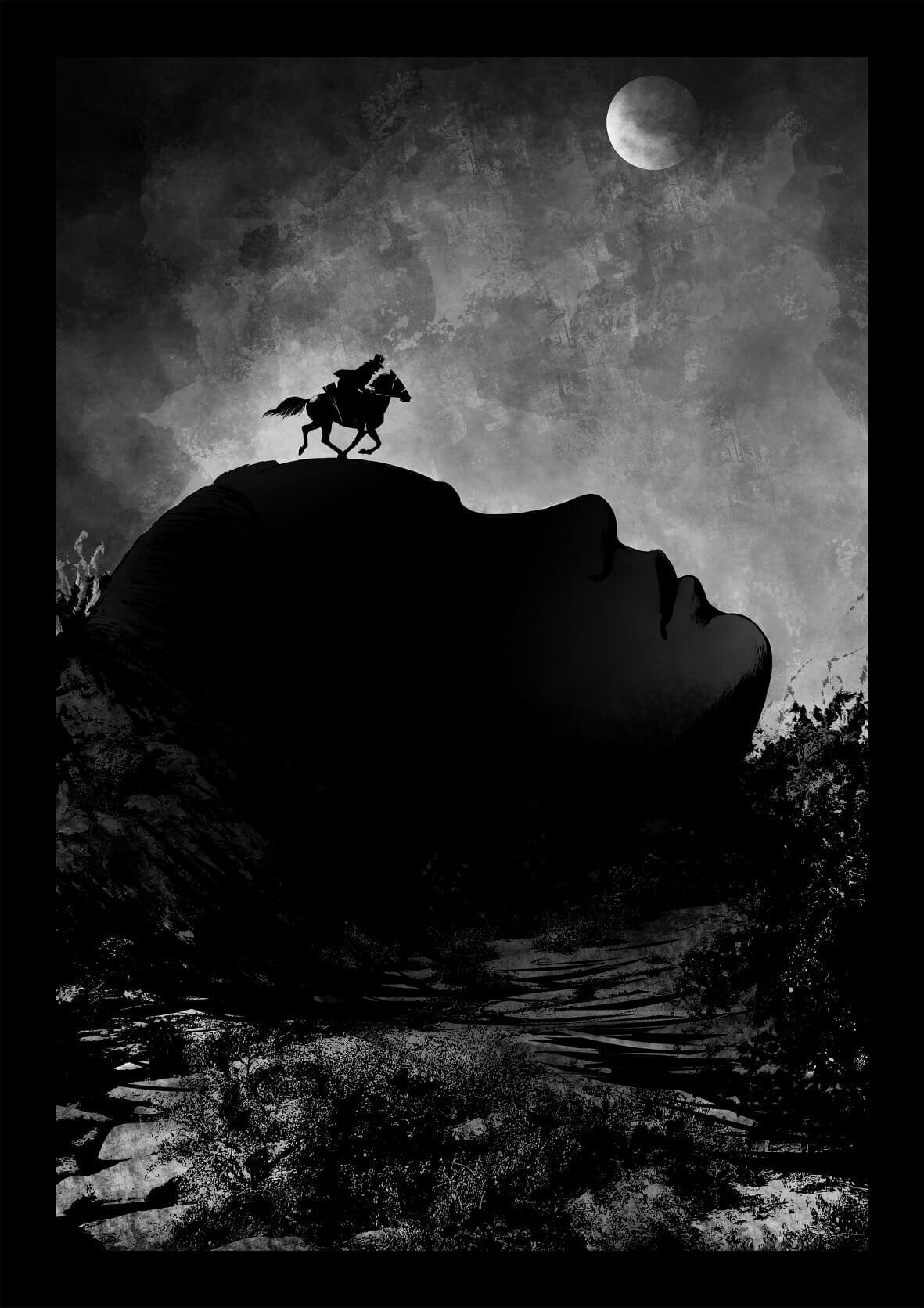 Both, now and then, are fascinating times.
Then there are the supernatural elements. This is, after all, a fictional Van Dieman Land and so anything could be possible. Victorian spiritual photography is a con but is there something else more profound going on here in Obscura?
Lukasz Wnuczek's style and the sombre black and white tones are a good fit for the comic book. Much of the book is set in a funeral parlour, and the black and white are appropriate.
Equally, when Obscura takes a turn towards the spiritual, then the greys creep in for a more ephemeral feel, but even then we're framed by darkness and light.
Our two main characters are black and white too. Dark hair and bright hair, at times they seem like opposites or perhaps even reflections of each other. One comes from a large family, the other raised by a single parent. One is all about giving people access to the dead and the other the very opposite. Perhaps that's why there's something mystical about the two teaming up.
I read Obscura in one sitting. That wasn't the plan. I don't open nearly 200 pages of comic and expect to get to the end that night. I did with Obscura. It's not always an easy read, but the important reveal is often just around the corner.
I asked Luke what he was hoping to achieve with the story.
I was hoping to make a book that would sit on people's coffee tables like a portal. I wanted the pages and the panels to drag people into another world.
I also wanted to make a creepy, blockbuster film. I wanted to make the kind of film people want to see, but no studio will finance. Through the medium of the graphic novel, I was able to make the film I wanted to see.
I have a PDF review copy of Obscura, so I don't get the coffee book trophy. That's fair enough.
Creepy? At times, and a bit like Snowpiercer, sometimes Obscura distracts you with the immediate action and the creepiness is in the reveals that come at key points.
The book is out March 15th and you can download a 30-page free preview from the website.
My copy of Obscura was provided for review.
Thoughts? Can you contribute to this article? Share your insight in the comments below.