The Wagadu Chronicles is a pair of games from Twin Drums. There's an upcoming online game and a 5e tabletop RPG.
One game already comes to mind on the mention of afropunk, and that's Swordsfall. It's a good thing there's another because there's plenty of room for more afropunk games in this universe, but it might also put these promising-looking RPGs in competition.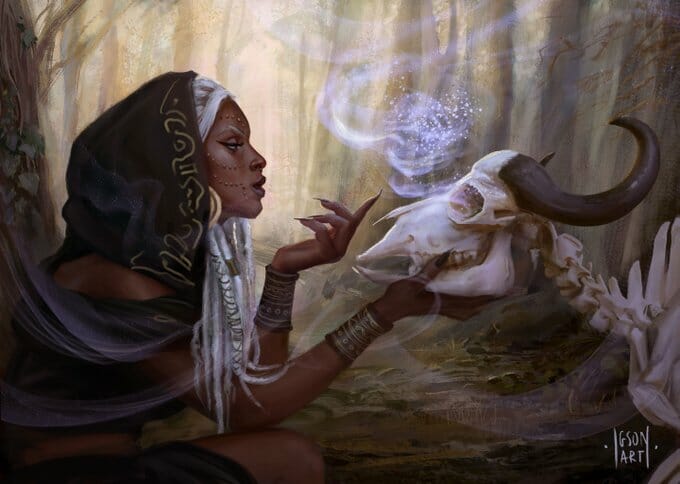 Of course, I'm counting chickens before they're hatched. Let's first take a look at Wagadu Chronicles and see why it has people excited.
The game looks gorgeous. The computer half of the project will be a multiplayer online RPG, and so that means tons of art will be generated. The tabletop RPG will benefit.
If you're already interested, then you can sign up for more information. I already have.
A 20 part Twitter thread introduced the world to The Wagadu Chronicles. Let's unpack it.
You can expand the tweet embedded above or, for the sake of speed, scroll through some of the introductions and lineages captured below.
The Upper Realms
Art by Gordiluv.
For reasons unknown, people appear in the Wagadu. Although it's a realm of wild spirits and powerful nature, life here is mostly peaceful. The people who arrive tend to band together to survive.
Wagadu Lineages
Art by Igsonart.
There are no "races" in Wagadu. However, people do have different ancestry, and these are known as lineages. Through gameplay, it is possible to change your lineage.
Wagadu lineage: Lionblood
Art by Igsonart.
An example of one of the seven lineages is the Lionblood. These are proud savannah hunters and competitive athletics and who feel a kinship with lion spirits.
Wagadu lineage: Swala
Art by Igsonart.
In contrast, the Swala of the savannah are herders and animal handlers. The Swala workship powerful nature entities and are descendants of an ancient queen and an eland doe spirit.
Wagadu lineage: Emere
Art by Igsonart.
The Emere are a lineage who live in the rain-forest and who practice mystical drum-dances, delicate craft and are known for their old magic. If you find a ruined temple in Wagadu it might well belong to the Emere and one of their 33 gods.
Wagadu lineage: Ironmasters
Art by Igsonart.
Smiths and devout ancestor worshippers, the Ironmasters (or Hyerenn) believe that they ascend after death. The Ironmasters live among other lineages.
Wagadu lineage: Moth People
Art by Igsonart.
Connected to darkness, worshipping death and oblivion, the Daa'ima are devoted to Addeessa, the two-faced goddess.
Wagadu lineage: Fish Folk
Art by Igsonart.
Traders, soothsayers and, of course, fishers, the Ikaki are a practical and hands-on people. The Fish Folk are quick to swallow up traditions and believes from people they meet, and this is, in turn, reflected in their own culture.
Wagadu lineage: Elementals
Art by Igsonart.
The Asiman are at home in the desert and, once they are a teenager, join either the fire, water, earth or air clan. The Elementals are known not just for their caravans but for their mastery of advanced alchemy.
Other Wagadu lineages
Art by Igsonart.
The Henndu (windy) are trailers and travelers. The Yitte (firey) tend to be found ruling Asiman oases. The Ndyam (watery) are scholars who worship knowledge, and the Laka (earthy) specialise in growing plants.
A melting pot of cultures
Art by Gordiluv.
The culture in Wagadu is layered, and these lineages often live together. The Ibanuje forset is given as an example where both the Emere and Ironsoul share a capital.
A changing spirit world
Cartography by AllanCudico.
The realm of Wagadu is of spirit and magic. It's not stable, and it changes all the time. However, some places are more robust than others, such as the City of 1000 gods.
The Finu
Art by NadimArnaout.
The Finu are helpful ancestor spirits.
Bonu Aumen
Art by Chaim_Garcia.
The Bonu Amuen are malicious bush spirits.
Aigamuxa
Art by Chaim_Garcia.
The Aigamuxa are ancestor spirits that have gone wrong after developing a taste for human flesh.
Dubiakus
Art by Chaim_Garcia.
These ancestor children spirits try and save people… buy turning them into stone art.
You can follow @WagaduChronicle on Twitter, if the email form doesn't tempt you, to keep an eye on this project.
Your considerate thoughts are welcome. Do you have something to add to this article? Please let us know in the comments below.