DriveThruRPG last night banned an RPG publisher for slander.
The full story is a little more complicated.
Firstly, the huge gaming convention PAX was on, and most of the DriveThruRPG staff were in attendance.
Secondly, Transfelinism orchestrated a marketing stunt that riled up Twitter and resulted in the doxxing of Matt McElroy, a senior member of the team.
Transfelinism's stunt
DriveThruRPG received complains that Transfelinism was using its platform to sell inappropriate content. The game, which DriveThruRPG acknowledges could have been presented as satirical, had players take on the role of cops and travel around to harass victims like "person of color" or "queer person".
The retailer responded by suspending sales of the game while they investigated.
Transfelinism took things to the next level. They rewrote the description of their game to make it look as if DriveThruRPG had banned it. In fact, the faked ban message read;
Ths publisher had been banned by moderators for hate speech against an oppressed minority: the police
On the Transfelinism blog the publisher claims they just happened to notice their game, Police_Procedure, had been removed and showed their edited game description without explaining they had created it themselves.
Later, this same blog post was updated to say that DriveThruRPG had successfully gotten in touch to say the game was suspended for the investigation.
The fabricated ban message was seeded on Twitter, and many people reacted as if DriveThruRPG had banned a game because the police were a persecuted minority.
Transfelinism's blog post talks about free speech. XKCD is a good reminder of how that works.
[XKCD's reminder on 'Right to Free Speech']
The ban hammer
DriveThruRPG has easily shown that the ban notice had been created by the publisher, not them.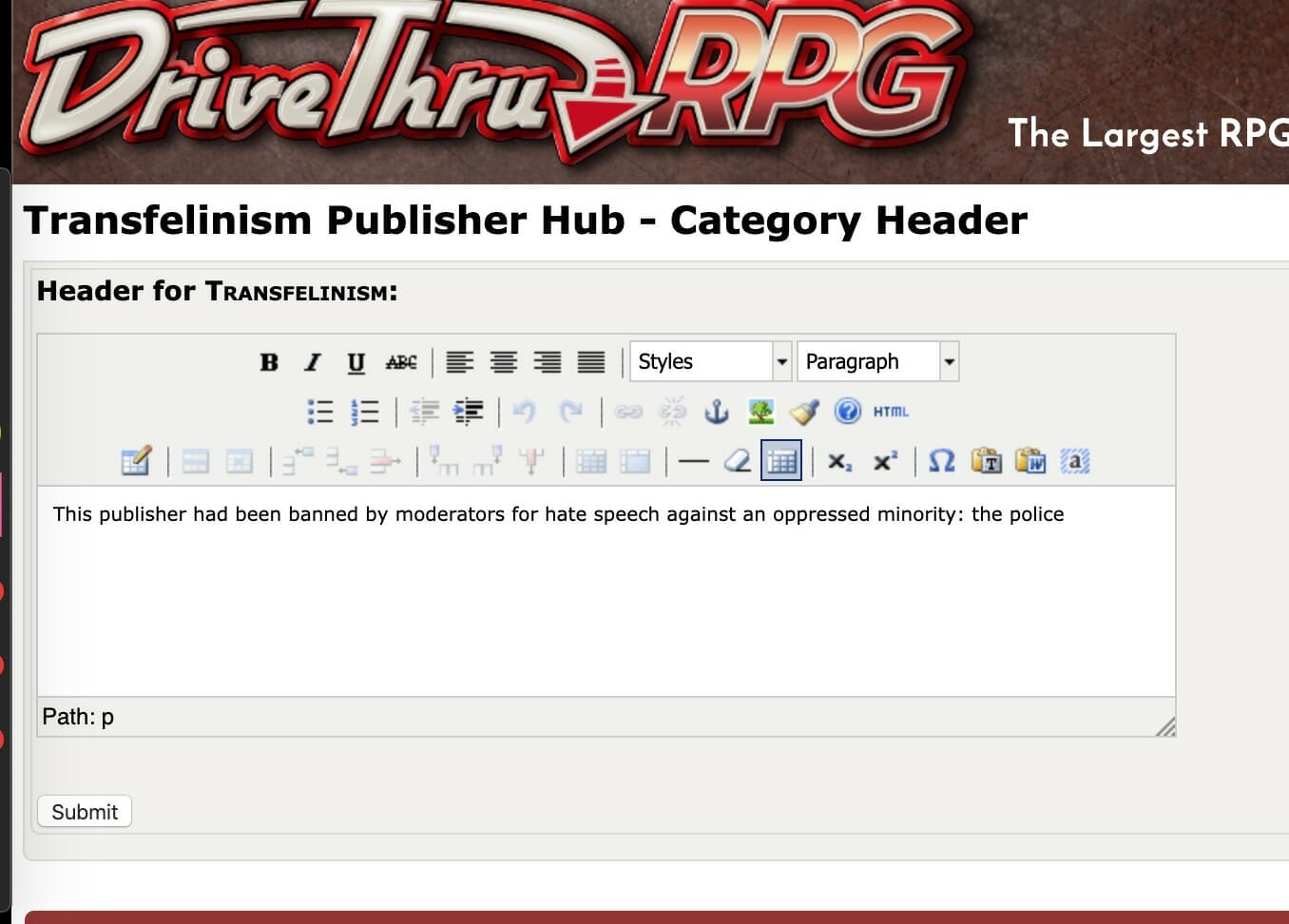 As the OneBookShelf (DTRPG's owner) blog post explains, the situation did not stop there;
Over the weekend during the PAX show, the publisher then undertook a number of questionable actions, including deactivating their other titles and then using DriveThruRPG tools to email prior customers messages falsely blaming DriveThruRPG for having removed those titles.
The investigation into whether the RPG Police_Procedure is satirical remains unresolved.
However, Transfelinism has been banned for slander – framing DriveThruRPG for actions they did not take.
As Transfelinism point out themselves, this is not their first ban, they are also blocked at RPGnet, RPoL, and Myth-Weavers.
Some in the RPG community are waking up to the discovery that they've been misinformed and tricked. Many are doing the right thing and removing the tweets sent in the heat of anger during the flame war.
Are you surprised at how easily flame wars start?