If you're a Sherlock Holmes fan, then you'll know the name, Irene Adler. The woman.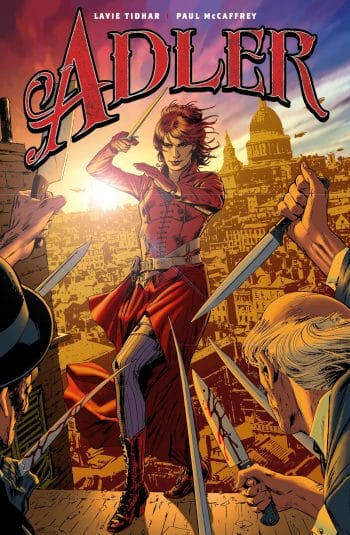 In Conan Doyle's story "The Five Orange Pips," Holmes says;
I have been beaten four times – three times by men and once by a woman"
The dates do not line up, The Five Orange Pips being set a year before A Scandal in Bohemia, but it is widely believed that was Doyle's error and that one woman was none other than Adler.
Now, Adler has her own comic book series from Titan Comics. It's written by Lavie Tidhar, whose novel Osama won the 2012 World Fantasy Award for Best Novel, beating George R. R. Martin's A Dance with Dragons.
In Adler, there's a touch of the League of Extraordinary Gentlewoman, as the genius teams up with famous women from science, history and literature such as Jane Eyre, Lady Havisham, Marie Curie, Armila and Ayesha.
Cover A is illustrated by Butch Guice and the series by Paul McCaffrey (TMNT and Men of War).
Issue #1 is due out on February 5, 2020.
Variant Adler covers
Adler preview pages
What do you think? Measured observations are welcome and you can leave them in the comment section below.