Geek Native likes to run competitions for readers. It's a chance to give something to the community of readers who decide to spend precious time over on this little blog.
Usually, there's a quirky question to answer as part of taking part in the competition, and that was certainly true for the Men in Black International competition held in June.
MIB International is all about aliens and relationships, and so Geek Native's quirky poll question was this:
Can you imagine yourself in a romantic relationship with an alien?
Are you ready for the answers? Let's split it out a little bit.
Men dating aliens
Men are most uncertain when it comes to dating aliens. Of those that took part in the Men in Black poll 47% said they could imagine themselves in a romance with an alien and 53% said they couldn't.
Women dating aliens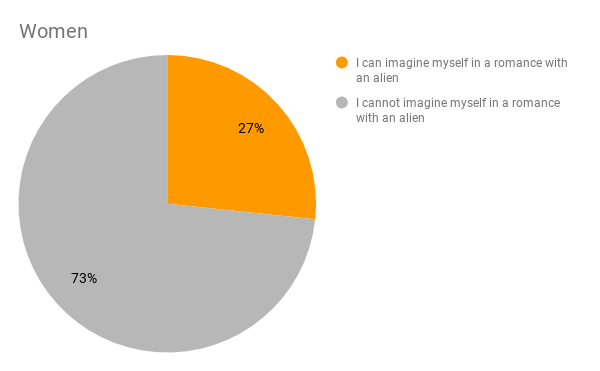 Women are far less keen on the idea of romance with off-worldly beings. Only 27% of female participants could even imagine themselves in an affair with an alien. Of course, there was no chance to ask whether this was because women simply couldn't imagine aliens being real.
Non-binary dating aliens
Perhaps it comes as no surprise, but those who took part in the quiz and don't identify as either male or female seemed to be more open-minded. A full 75% of non-binary respondents could imagine themselves in a romance with an alien.
As usual, it's worth stressing that these Geek Native polls aren't science. There was little over 100 participants in the survey, and everyone taking part was trying to win a book.
I wonder whether the MIB context framed people's imagination of what an alien would look like. The Doctor is an alien. Marvel's Thor and Loki are aliens. Yeah, they look entirely human though.
What do you think?
The MIB International competition is over, but I've re-opened the survey to keep a running total of un-incentivized responses. Could you imagine yourself in a romance with an alien?
Creative Commons credit Spock and Uhura by Jazia Death.
Do you have any thoughts on this article? Let us know in the comments below.