Have you noticed that when gamers share homebrew versions of monsters, NPCs and even lore they often come complete with a background that looks like aged paper? It's the same style the official Dungeons & Dragons book use.
There are several ways you can easily recreate this effect, some of them are free and require little effort at all.
In this article, we look at four different sites from where you can get an official D&D looking stat block. Let us know in the comments below what your prefered and alternative methods are.
The Homebrewery
from Natural Crit.
There's little doubt in my mind that the Homebrewery is brilliant. It's free and flexible.
Use a simple text editor and various templates to turn your words into something that looks like they've been through Wizards of the Coast's InDesign team.
You can make spells, spell lists, class features, class features, cover pages and, of course, lots of stat blocks. Monster stat blocks, wide stat blocks and even descriptive text blocks are all possible.
GM Binder
This is a free and Patreon supported onine tool. The Reddit community at /r/gmbinder/ offers support, ideas and shares creations.
If you're won over by GM Binder then they even make it easy for you to port your content over.
Once you create an account, the approach is very similar to Homebrewery and just a good. You can use a text editor to create covers, item cards, spell lists, tables and monster blocks, note blocks and a wealth of content styles.
Tetra Cube
Tetra Cube is a more straight-forward and therefore faster approach. It's focused on just D&D 5e stat blocks with any of the other layout and design considerations.
Name your creature, give it the attributes it needs (Tetra Cube works out bonuses and penalties) and if you want to create some abilities for it too.
Statblock 5e web component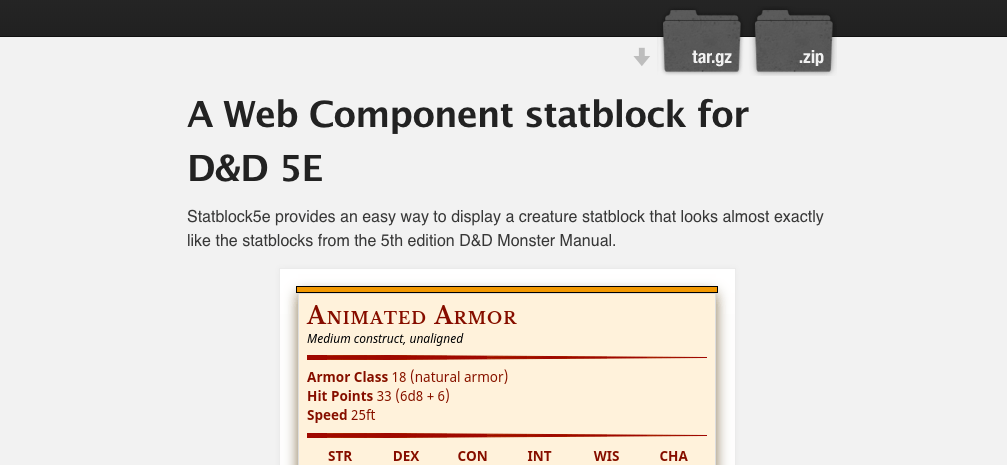 Valloric takes a different approach, and it is one that is best suited to website owners and bloggers who write about D&D monsters often.
This is a web component system without any other dependencies. Once the HTML, CSS and SVG files are in place on your hosts, then you'll be able to use HTML markup to present official seeming stat blocks for the monsters you are writing about.
How do you make and present D&D 5e stat blocks? Let us know in the comments below.