Chris Perkins talked to D&D Beyond's Todd Kenreck again. The video was about Baldur's Gat: Descent into Avernus and the quirky story about the Abyssal Chicken.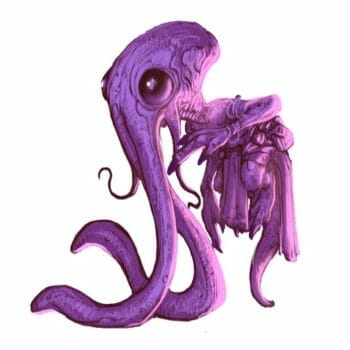 The Wizards of the Coast writing team became obsessed by the weird looking horrors, and so they ended up in the game. Perkins had to stat block them, and so the story makes for a cute little video segment.
Kenreck had an agenda of his own, though. He wanted a particular type of mindflayer to make it back into the game.
As highlighted by the dramatic video for Baldur's Gate III, Mindflayers are not borne; they are made. People become Mindflayers in a horrible process called ceremophosis in which a 'mind flayer tadpole' penetrates the brain of the host and transforms it into the atrocious adult monster.
What if something cute and small gets infected with the Mindflayer tadpole, though? What if something like a gnome undergoes ceremophosis?
You'd end up with Gnome Mindflayer.
Todd Kenreck pitched the idea to Chris Perkins, and the video showed various concept artworks for Gnome Mindflayers including this piece by Richard Whitters shown in this article.
It was enough for Perkins. He decides on the spot to add the cute but horrible beasts to D&D.
What's the weirdest creature on the 'cute but horrible' scale you've ever fought in a tabletop RPG?