I really rather liked the system liberated The Silence of Hollowind from The Evil Company. Hollwind is an exciting cross between 1930s America gangsters, European civil unrest, fantasy races and dangerous magic.
I liked the visual aesthetic of the RPG. It's a game in which you could play an orc stewardess on a Zeppelin or a hardboiled gnome detective.
That aesthetic has taken an unusual twist for a RPG. The Italian designer, Luca Bellini, is Kickstarting The Silence of Hollowind: Pin-Up Adventures. Back the project to bring on new artists, unlock extra girls and adventures. Each pin-up comes with a playable adventure.
At least half the illustrators, at launch, are women but none of the pin-ups are men.
I can't tell whether or not I'm writing about a Kickstarter project that might explode with controversy or slide definitively to either kudos for doing something new and bold or disapproval for objectification and boring tropes.
A pledge of €12 will get you your name in the credits (which you may have mixed feelings about), a PDF copy and all digital stretch goals. Step up to €25 for a print copy. If you're keen, you can go all the way up to €45 with a host of other backers for a collection of rewards and the NFSW edition.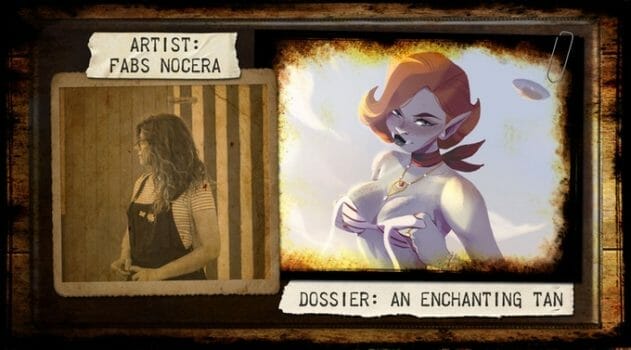 The Hollowind pin-up collection is asking for €4,000 and is approaching €2,000 with 28 days, at the time of writing, still to run on the clock.