Some might think that the last few Irregular Reconnaissance have been suspiciously regular. It's a trap! We're simply catching up with a host of anime mini-reviews.
What's Irregular Reconnaissance anyway? It's a Geek Native column that offers a quick review catch-up up on a half-dozen or so anime titles. It's a chance to find out what might be worth streaming over Netflix or Crunchroll or, gasp, even buying on shiny disc.
Do you have any recommendations of your own? Share your own anime mini-reviews in the comments below.
One Piece
Episodes 261 to 275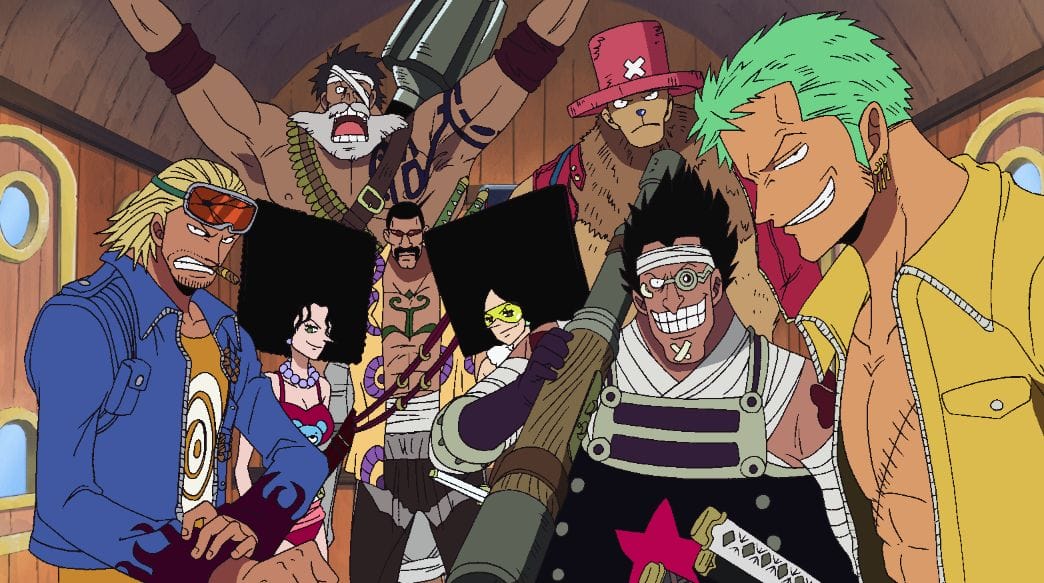 We're into the Enies Lobby Arc with this bundle of episodes. We're still in the Water 7 Saga but on to the 8th island the Straw Hats have explored in the Grand Lake.
The Straw Hats unlock a chunk of experience points and level up. That's the RPG way of describing what happens. We also have CP9 to deal with. Lots going on. I'm glad we finally get to the bottom of some of the drama around Robin.
Status: Worth watching as part of anime lore
Where: Amazon UK | Amazon US
Naruto Shippuden
Episodes 321 to 340
Some big fights, finally! We've a focus on Kabuto, a great villain, and you'd think that would be the most significant news. Oh no. There's some clever plot twists that reveal new danger. This one of those plot twists that you'll both see coming and be surprised at the reveal. That's not impossible. That's just a plot twist that makes sense.
We even have Naruto having to deal directly with the incredible dangerous Tailed Beasts. This entire chunk of Naruto Shippuden is pay off for years of loyal watching.
It might seem odd to recommend an anime that needs dozens and dozens of episodes to really ramp up the drama. That's exactly the situation here. I do recommend Naruto but recognise you'll have to stick with it for a while.
Status: Recommended
Where: Crunchyroll | Amazon UK | Amazon US
Blood Lad
Episodes 5 to 10
I'm glad I kept watching Blood Lad as the anime has won me over. The backstory among the vampire characters is interesting and the action scenes different enough to stand out from the usual ninja or death god battles.
Staz struggles to find a way to bring a Japanese girl back to life but in doing so starts to shake up the balance of power in the monster world. It's hard to really describe Blood Lad in terms of genre. It reminds me a bit of Soul Eater before Soul Eater got dark and serious. I wouldn't be surprised if Blood Lad got more serious, if it sees as Season 2, but I don't think it'll drop the goofy aspects to the show.
Status: Recommended
Where: Netflix | Amazon UK | Amazon US
Knights of Sidonia
Season 2, Episodes 1 to 3
I really enjoyed the first season of Knights of Sidonia so watching the follow up was a no brainer. There's a lot of loose ends to tie up!
In just these first episodes we have Kobayashi take dramatic action within the Sidonia, a deadly new type of guana and combat action for Nagate. Knights of Sidonia retains its CGI-esq animation style; one that works very well for launch sequences and ship-to-guana battles.
At this early stage there's every reason to believe this series will be as good as the first.
Status: Enjoyed the first? Watch this
Where: Netflix | Amazon UK | Amazon US
High School of the Dead
Episodes 1 to 4
Okay then, let's see what all the fuss is about.
A zombie plague breaks out and our survivors are trapped in a school. As it happens the surviving guys are all people geeks can relate too and the surviving women are all fantasies. Heck; one of the girls just happens to be some samurai level sword expert.
I was expecting more fan service than the first couple of episodes served up. A Netflix censorship deal?
Status: Silly
Where: Netflix | Amazon UK | Amazon US
Anti-Magic Academy: The 35th Test Platoon
Episodes 1 to 4
The academy trains an usual police force – a group that goes up against wizards and people who are casting magic without permission. The anime starts off when platoon 35, a group of misfits banded together a wildcard, last chance, exercise are joined by a former elite. Why Otori Ouka has lost her license and wound up back at the academy isn't entirely clear.
It seems unlikely the 35th Test Platoon will pass the end of year exams. They, as a group, need points for course work and the like. Their only chance is to win the cooperation of Otori but she's not playing ball.
Imagine if a witch, also for reasons unknown, was to be mysteriously added to the anti-magic academy at to this particular squad. Colour me interested.
Status: Recommended
Where: Crunchyroll
Titles mentioned in Irregular Reconnaissance are available on Netflix UK, Crunchyroll or UK retail. Some titles have been made available as freebies for review and may become available a shortly after this summary goes live.
Find out what Geek Native readers say about this in the comments below. You're welcome to add your own.