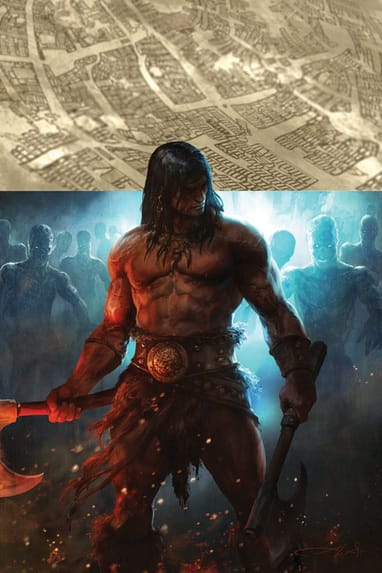 Modiphius Entertainment has today announced a new RPG based on Robert E Howard's Conan.
The deal will bring the game called "CONAN Adventures In An Age Undreamed Of" to market for August 2015. The game will use the pulp setting to bring the ancient horrors of the Hyborian Age to life.
The new Conan RPG will tap the talent of Dark Sun's Timothy Brown, the Robert E Howard scholar Jeffrey Shanks, Mark Finn and Chris Lites who has written for Paizo and Savage Worlds.
The 2d20 system is based on Jay Little's work on Mutant Chronicles and tweaked for the sword and sorcery action in Conan. Jeffrey Shanks is on board to ensure every paragraph of the game is true to the spirit Howard intended.
Modiphius is not working alone. They're working with other licensing partners like Monolith Board Games, creators of the $2m+ Kickstarter board game and Funcom the company behind the MMORPG Age of Conan.
The publisher is promising regular blog updates, playtesting and a forum. There's more information available at Modiphius.com/conan.html including a sign up for more information form.