You can search Google with images. All you need to do is drag and drop your image from your desktop or tab into the search box. As a security and privacy feature Google refuses to match faces for faces. If you search for a face you'll exact matches and a wide range in the so-called "visually similar images" section. This means you can do things like search for a face and a keyword like "monster" to provoke some interesting results.
What would happen if we took six well known game designers, used their image and the word monster to search Google Image. Would we get any intereting matches?
Each of these six matches – as poor as they are – link through to a set of Google search results. These will change over time, change on your location and whether you're logged in. You may not get the same results as me. You may get even weirder matches! Feel free to post them in the comments below.
Mark Rein-Hagen
Rein-Hagen's image combined with the keyword monster turns up a spooky image fairly quickly. This time we've found an old blog post about Frankenstein and the Monster from Hell.
Stewart Wieck
Combining Stewart Wieck's black and white Twitter profile gives us plenty of monsters! The first beastie we come across in the search is a wise looking Dragon Quest Monster from Chibikoma on Deviant Art.
Monte Cook
This image + monster turns up "Sad Monster" from Sinister Rogue within the first page of results. This monster doesn't come quickly and there are a few dolls which might qualify first. Do you think they should?
Jonathan Tweet
This image + monster gives is this "Hexagon Monster Mask of Terror" as the very first result.
Mike Mearls
This picture of Mike + monster turns up this special special effects post from "I, Frankenstein". Perhaps this is a look ahead in to Mike's future? Nah!
Steve Jackson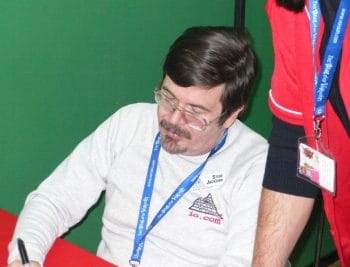 It's an old picture but it is there in public domain. Searching for this image + monster turns up colourful results. I'd argue this Spirited Away meets ice cream image on Deviant Art is the first true monster match.
What do you think? Share your input on this article in the section below.