Living up to the name "Irregular" here is the second comic book edition of Irregular Reconnaissance. This is a chance to do quick catch-ups of the comic books and graphic novels that have found their way in front of my eyes in recent times.
Each comic book listing has a micro summary and a recommendation. Disagree? Did I miss the point? Let us know in the comments below.
Pathfinder
Episodes: 7 & 8 (Comixology | TFAW)
This is a new arc. We've got an idea of what the characters in the party are like and we're also clear in their ability to get themselves into trouble.
This comic book is my only hands-on Pathfinder experience. I'm yet to find time or a gaming group that'll make a tabletop encounter possible. Fortunately, the writing is good, art fantastic and I'm interested in how bad things get for the heroes.
Status: Reading, enjoying.
Shadowman
Episode: 8 (Comixology | TFAW)
I'm not really sure what I expected from Shadowman. I wanted something different. I wanted something a little darker. I think I'm getting that. Boniface is (trying to) take the action to Master Darque and that's upsetting pretty much everyone else.
Shadowman continues to hold my interest but I do feel a bit like I'm holding out for something more. It feels like Shadowman could ramp up and win me forever or drop the ball and never get downloaded again. Which? Both seem equally as likely.
Status: Still reading
Green Lantern
Episodes: 22 & 23 (Comixology | TFAW)
In an interesting twist – not only did action pick up straight (almost) after the last arc finished but we're exploring consequences of actions and watching clever bad guys. In a universe of baddies why doesn't one of them attack right while the heroes are weak and shambolic after only just managing to win the day? Step forward Lafrleeze.
Status: I'm enjoying this more than I thought I would
Justice League Dark
Episodes: 22 & 23 (Comixology | TFAW)
I've been limping along with the Justice League Dark, avoiding the bright colours and patriotism of some of the other Justice League titles and not quite getting it. The title has been on shaky grounds with me for a while but I knew the Trinity War was coming and this was the episode in which it hit.
Well. Okay. Pretty sure this didn't blow me away but it did hold my attention. The bunch of magic users and misfits who everyone else call the Justice League Dark are effectively hit by drama from elsewhere and something's happened to Superman. Could this be a fix to the previous JLD arc which did all sorts of weird things to the mythos by blending the origins of magic and technology? We'll see.
Status: Hoping it'll get better, soon.
Constantine
Episode: 5 (Comixology | TFAW)
I am not reading Constantine. He's one of my least favourite Justice League Dark because it's hard to write smug git and make it seem cool. I'm not even sure what his powers seem to be and range from undefined cosmic spellcasting to minor rites. He has a pet house.
I am, however, giving the Trinity War a go and right after Justice League Dark 22 this is where the arc goes. Witness Constantine trying to screw over Shazam / leave the young Billy Baston in the lurch. Why? Not sure.
Status: Staying clear of Constantine stories, trying to follow Trinity War
Swamp Thing
Episode 22 & 23: (Comixology | TFAW)
Swamp Thing is in Scotland. Uh-oh, this Scottish blogger is left to enjoy the stereotypical whiskey story of some isolated village as Seeder and … my favourite (not) … Constantine set about corrupting everything.
Here's one victory that can't come swiftly enough. Swamp Thing somehow manages to be a little more real and gritty than those titles trying to hardest to do the same.
Status: Enjoying it
Dresden Files: Ghoul Gobin
Episode: 5 (Comixology | TFAW)
I feel sorry for all those Dresden fans who don't know there's a comic book series out there. Harry's going his best to untangle curses and murders and in typical Dresden style this is attempt to do good seems only to be making things worse.
What works for me in Ghoul Goblin is the presence of Jim Butcher. I don't know how the writing load is shared between Butcher and Mark Powers but it's working. Even if Butcher is just attached by name alone then his previous writing has clearly been enough to let a talented Mark Powers recreate his style.
Status: Enjoying it, recommended reading
Trinity of Sin: Pandora
Episodes: 2 & 3 (Comixology | TFAW)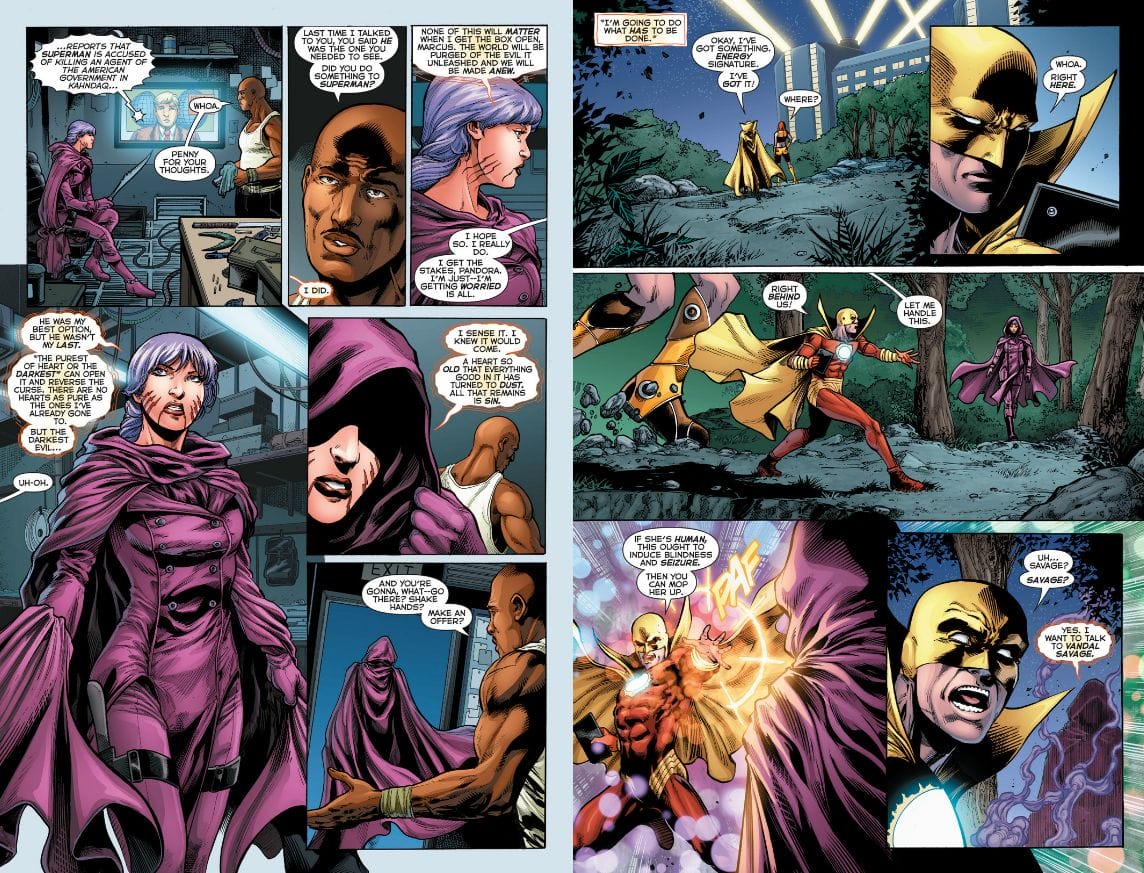 I've been looking forward to the Trinity Wars arc and, I think, that's mainly because the Trinity of Sin characters caught my attention. I've mixed feelings about Pandora. If she's raided from Greek Mythology is that cool or not? It's hardly new for either DC (or Marvel) to do so but this character would be interesting.
Do we see much of this potential? I leap into Trinity of Sin: Pandora 2 as I follow the Trinity War arc guidelines in the Comixology app. This leap brings me to a character that feels interesting enough, teases with me potential but doesn't deliver a critical hit. It does well enough to lure me back, though.
Status: Interested, will try another
Trinity of Sin: The Phantom Stranger
Episode: 11 (Comixology | TFAW)
Despite being tempted by the Trinity of Sin characters it took the Trinity War arc and Comixology's ability to link titles together to take me to catch up on The Phantom Stranger. I rather liked this comic. In some ways J. DeMatteis could have been handed a poison chalice with the Phantom Stranger but you'd hardly know here. The book oozes interest and some unexpected twists.
The catch? Not sure where the plot *can* go next. Nevertheless, I'm interested enough to find out.
Status: Attention grabbed, will be coming back to check out the next episode.
Justice League of America
Episode: 7 (Comixology | TFAW)
The Trinity War arc takes me yet another title I wouldn't normally give the time of day. I think I lucked out with this issue of Justice League of America. We pushed the plot of Trinity War forward and I was reminded and reassured that I don't need to spend any more time on JLA comics.
Status: Here for the Trinity War, just passing through
Steampunk Corsairs
Episode:1 (Comixology | TFAW)
Pretty girls in their frilly underwear! Lured by the promise of a sexy steampunk pirate series I gave Steampunk Corsairs a go. Whereas I actually do enjoy Rod Espinosa's art and style, I found Steampunk Corsairs just a little too direct, or cheesy or perhaps in your face to be sexy.
Essentially we've a small band of lingerie models, in a Nautilus-style submersible and doing swashbuckling things. Plot? Not needed.
Status: Putting this one down and walking away (send me the pictures)
T.H.U.N.D.E.R. Agents
Episode: 1 (Comixology | TFAW)
I was tempted by Thunder Agents for two reasons; I was looking around for a non-Marvel title to read and secondly the synopsis sound good.
The Thunder Agents are in trouble but their new recruit – Dynamo – seems able to wear the Thunderbelt might be able to save them. I hadn't any previous experience with these heroes but the series actually started in the 60s. This feels like a good time to check it out.
Status: Sold, will be checking out the next couple of episodse.
Infinity
Episode: 1 (Comixology | TFAW)
This is a chunky comic book; lots of pages and lots of action. Jonathan Hickman and Jim Cheung certainly give you value for money.
There are lots of reason to dig in here. Thanos is clearly going to be an important character in comic book lore over the next few years after his teaser appearance at the end of The Avengers movie. Consider reading Infinity to be research.
As it happens, though, Infinity is a great read. All sorts of clever techniques are used to keep your interest will bringing in all the "You need to know" background points from decades of history.
Status: Recommended
Justice League
Episode: 23 (Comixology | TFAW )
This is where the Trinity War comes to a close.
I've mixed feelings about this. In some ways I felt the actions (or inactions) of the heroes came together to make a little more sense. In other ways the climax of the Trinity War is a hybrid between a "you what?" moment and a comic book cliché.
You've got to go with the idea that Geoff Johns has a plan and that Marvel are on board with it. I'm not sure what Pandora's connection to Pandora's Box was or why the Trinity of Sin are involved. I actually feel as if I should read on just to see if the tangle untangles successfully!
Status: Confused