🐙Sponsored Post paid for by Geek Native. We may earn a commission on sales.
Geek Native, train strikes allowing, will be at UK Games Expo in a week or so. I'm still thinking about the bag I bring for my time out at the expo, a bag big enough to put acquired games into but not so big as to get heavy or brain people when I clumsily turn around.
Wizards of the Coast and Fun.com have launched two D&D mini backpacks that might have answered my problem.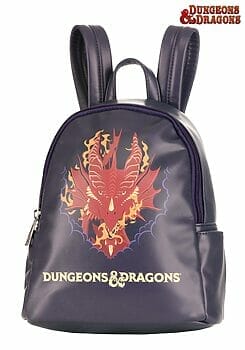 The D&D logo bag is familiar, but I'd have gone Dragon face. What a name!
The backpacks are official D&D merch exclusive to Fun, who make them themselves. While they look leather, they're not; each is 100% polyurethane on the outside and polyester fabric lined. There's a zipper as well, so you can close that compartment.
I've said they are mini backpacks because they size in at 8″ W x 10″ H x 5″ D. The shoulder straps are adjustable, so there's some wriggle room. Literal wriggle room.
I figure I'd get a lot of dice in there. While I'm gearing up for UK Games Expo, Gen Con is rumbling to life in the States, so Fun may have timed these dragon bags well.
Quick Links
Join (or start) the healthy debate. Share your observations below.