I listened to the audiobook narrated by Susan Duerden of China Mieville's Embassytown.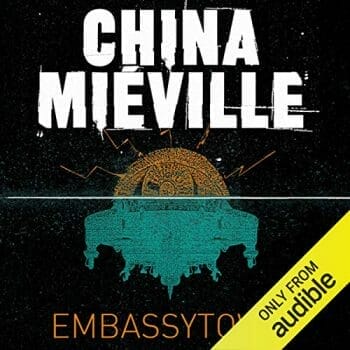 I think an audiobook is the only way I can imagine experiencing the 2011 sci-fi.
You see, there are aliens with two mouths in the setting which speak in stereo, and the audiobook does this by (selectively) using the left speaker/headphone for one word and the right for the other. I was startled the first time Susan Duerden's voice reached me like that, and I never got used to it.
China Mieville wanted to create a truly alien language, and this audio approach is a powerful success!
What's Embassytown about?
Embassytown by China Mieville is a captivating and thought-provoking science fiction novel. The story follows Avice Benner Cho, an ambassador from Embassytown, a human settlement on the planet of Arieka. Avice's self-appointed mission is to help the alien species known as the Ariekei communicate with the human settlers.
The novel is a complex exploration of language and communication and is full of vivid and imaginative descriptions. Mieville's writing brings to life the strange world of Embassytown and its inhabitants. The characters are complex and engaging, and the story is full of suspense and unexpected twists.
I found the human ambassadors especially interesting. To speak back to the aliens, the hosts, on Arieka, humanity breeds twins and enhances their empathic connection through technology. The twins can speak in the two-voice language, one twin doing one voice, the other the other, and no one else can.
Narration by Susan Duerden
Susan brings China's book to life in your ears. I've not read it; I've only listened to it and if you have the chance to take the same route as me – take it.
Audible says that they have got an exclusive. Sometimes that means a narrator exclusive, but whatever the case, if you're on Amazon's platform, I'd highly recommend this edition.
I don't know what extra effort the narrator had to do for the double-speaking – perhaps saying additional words after the main recording and (I hope) someone else editing the audio tracks to overlay the two. It certainly makes a big difference to the listener!
Susan brings aliens to life, men and women, and even robots. It's no easy task, but it's expertly managed.
Overall
The novel is a must-read/must-listen for any fan of sci-fi and a great way to explore the possibilities of language and communication.
Quick Links
Do you have extra insight on this article? Please scoll down to the comments and share your knowledge.