I had the good fortune of finding Chaos Curios, a geeky Scottish crafter, while attending Tabletop Scotland this year.
From Chaos, I bought several DnD Dice Wax Melts, candles in a tin and decorated with nerdy stuff. I've two small ones to give away as competition prizes.
If you're not feeling lucky, you can buy these online and from either Etsy or the Chaos Curios Shopify.
To enter the competition, you must have a British mail address and complete the task the widget sets out. Can't see the task? You'll need to log in. Yep, sorry, the widget randomly picks the winners and does its best to thwart cheats, so it's a necessary step.
a Rafflecopter giveaway
(T&Cs apply | UK only)
(Closes: 17th Oct 2022)
Please note that you'll get a randomly selected candle. It'll be the same deal as the one you see here; wax in a tin with clever geeky art sculpts on top. That said, it probably won't be the one photographed. I think the giveaway candles have a bit of a Halloween vibe.
Roz, the owner of Chaos Curios, has several names on their about page. There's the Chaos Crafter, Maker of Chains and the Queen of the Click Clacks and relevant to this competition, there's also the Forger of Dice Wax Melts.
Latest competition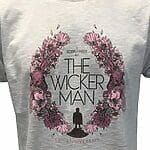 Competition: Win a The Wicker Man t-shirt for the 50th anniversary
-
To celebrate, you can buy the 50th Anniversary Collector's Edition or try and win this official t-shirt. You can't buy the t-shirt. [...]
Take part in the conversations on the site and leave a comment below.