The World Below will be a new RPG from Onyx Path Publishing and a new IP. As a new intellectual property, it means The World Below is a unique and original creation, not connected to the World of Darkness, Scarred Lands, Pugmire, or the They Came From series.
It's a Matthew Dawkins project. The RPG designer pitched it to the company and will likely line manage it. Dawkins also told the Tabletop Scotland gaming convention that crossovers with other Onyx Path properties could be possible with The World Below, but he didn't say they would happen.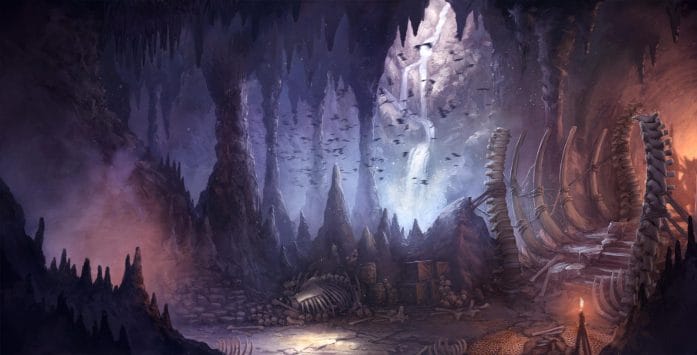 The fantasy RPG will use Storypath Ultra, like Storypath 1.5, an evolution of OPP's d10 engine.
The World Below setting
The World has been ruined and corrupted. To escape, the apocalypse survivors flee below.
However, they're not alone. There are other people below, previous refugees from other horrors, monsters, and magic.
There's also magic, chaos and corruption below. The deeper down and closer to the source of this magic characters, the more strongly they are affected.
Matthew Dawkins described a sandbox setting where PCs could stay in the town just below the surface, drinking the muddy water that trickles through, struggling for food and living in sludge. Sound attractive? At least it's predictable.
Life is more challenging and more chaotic further down below. The computer game analogy was made again, as characters have to be higher level and tougher to survive for long in the deeper levels. However, if players (and their characters are clever), they can make tactical raids below, staying long enough to look for powerful loot to transform their lives.
Inspirations include the game Hollow Knight and the author J.G. Ballard. The latter might be best known for the great war novel Empire of the Sun, but Ballard was a prolific sci-fi writer, often exploring class and writing titles like The Drowned World, Drought and Concrete Island.
Power in The World Below
Characters in The World Below will have access to Exalted level powers, which means god-like abilities. There will, however, be twists.
It's not just the player characters at this level. Due to the magical corruption that's everpresent below, everyone does, albeit through limitations and specifications not yet shared by Onyx Path.
Power is also a theme of the RPG. The absolute power of magic is a challenging but achievable quest for characters in the game. But, once attained, what would they do with it?
Speaking on an Onyx Path Publishing panel, Matthew Dawkins explained there would be a dilemma. PCs could keep the power for themselves and perhaps be confident they would be benevolent and incorruptible controllers. Or they could return with it, knowing others will try and take it from them, to share it.
The publishing status of The World Below
We don't have a due date for the game. The World Below is in First Draft, meaning writers have turned in their initial text for that inspection.
Typically, Onyx Path turns to Kickstarter to launch a game and does two things. The games are set for a release a year or more away; that's the first. Second, draft copies of the RPGs and supplements are made available immediately.
Creative Commons art credit: Caves by ArtofRagnar.
Let us know your thoughts in the comments below.