Do you need a cake? In this article, you'll find out how I celebrated Geek Native's greatest ever commercial failure (so far) with cake and get my cake generator.
I did not make the cake. I do not have the skills. Instead, for my birthday, I turned to Edinburgh's Licks Cake Design.
"I want a mind flayer vomiting a rainbow," I said to Alicks, "you know like it was sending a Snapchat message.
Alicks agreed because he's a professional, and he didn't even object when I told him I'd made a spreadsheet of flavours to randomly determine what I wanted.
On schedule, my coffee and caramel mind flayer rainbow vomiting cake was made, and it tasted delicious!
Fantasy cake generator
(Disclaimer: Geek Native style cakes only)
Your cake will be…
Mind flayer cake
Licks Cake Design kindly agreed to photograph some of the magic known as baking.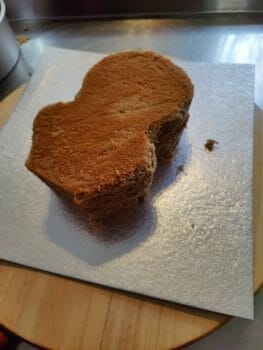 The failure story
Geek Native has some cute monster mascots which merge fantasy RPG encounters with social media.
There's the texting kobold, Redditor Medusa, VSO dryad and an owlbear taking a selfie.
The design I went large on, ordering extra versions, is a mind flayer sending Snaps. You can see the rainbow puke filter, puppy ears, flower crown and heart eyes.
All these designs are available as t-shirts, stickers, cases, socks, posters and other merch from the Geek Native store. Do you know how many mind flayer designs have sold to date?
None!
Surprise! Not a surprise. Only I thought a Snap sending cute mind flayer would be a good idea.
So, to celebrate wasting that money and the time of a talented illustrator, I turned it into a cake.
I guess the lesson is; that if you know someone who can cope with wedding cake stress, then you know someone who can turn fantasy monsters and random flavours into a cake.
Quick Links
What do you think? Share your thoughts below in the comment section below.