DCC publisher Goodman Games asks;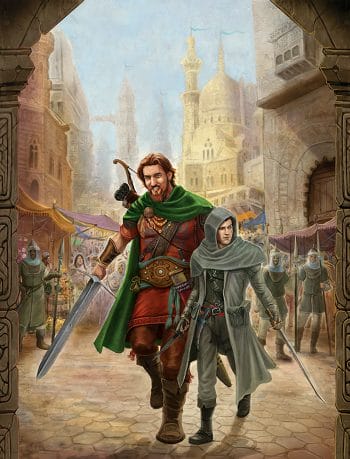 What has nine eyes, five tentacles, a thirst for human flesh, and is coming down the alleyway? I don't know either, but I think it's a good idea to run…
Magic and Monsters of Lankhmar is the first 5e book for Lankhmar and is officially licensed from the estate of Fritz Leiber.
The official blurb reads;
Monsters and Magic of Lankhmar is filled with more terrible beasts and new magic than the pages of Skrith of the Scrolls, each presented in a ready-to-use fifth edition format. More than 20 new monsters and over 15 new spells and magical items are included here, each one from the fantastic stories of Fafhrd and the Gray Mouser, as written by world-renowned fantasy author, Fritz Leiber.

Produced in cooperation with the Fritz Leiber Estate, Monsters and Magic of Lankhmar is the perfect way to introduce a dash of Lankhmar into your fifth edition campaign or to create adventures set in the world of Nehwon—all without the need of Ningauble's Cave to do so! Get ready to venture to the land of Lankhmar and see what adventure awaits you and your players…
Lankhmar is a city that appeared in Leiber's Fafhrd and the Gray Mouser stories, sword and sorcery fantasy which dates back to a 1937 wargame. The setting first crossed into D&D for the first edition of AD&D's Deities & Demigods, which took some of the Nehwon mythos. Nehwon being the world the wargame was set in and the world in which we find Lankhmar.
Goodman Games picked up the license in 2019 and published it as a box set for Dungeon Crawl Classics.
Scroll down to find the Geek Native community comment section.