There's still a month for backers to get involved, but Kobold Press' Campaign Builder: Cities & Towns for 5th Edition has already smashed funding goals.
The book makes it easier for DMs to create, expand and enhance towns and whole cities. Designed cities mean NPCs, rumours as well as buildings. You can find out more on the pitch page.
There's a free to download Campaign Builder preview (PDF link) available. It's a straightforward way to see the city-building chapter and get a feel for what Kobold Press have in mind.
More than one book is in scope for the campaign; 10 wet/dry battle maps, 24 inches by 36 inches, of the Cities & Towns Map Folio will be made, and a Roll20 VTT edition.
If you track RPG evolution, the Roll20 edition of Campaign Builder includes the Folio maps, monsters and NPCs is the first time Roll20 has allowed a publisher to do a "buy the book, get the Roll20 version for free". It's significant because you don't have to buy the same content twice.
The core design team includes Richard Green, Sarah Madsen, Sebastian Rombach, and Tim Hitchcock, with additional contributions by Benjamin Eastman, Brian Suskind, Jeff Lee, and Victoria Jaczko, among others.
The project's lead editor is Scott Gable, and the cover artist is Lie Setiawan, with the limited edition cover by Addison Rankin. The cartographers include both the amazing Jon Pintar and the stunning Tommi Salama, and the interior artists include Marcel Mercado, Bryan Syme, Egil Thompson, Julian Hellwig, Kyle Patterson, Margarita Bourkova, and other favorites.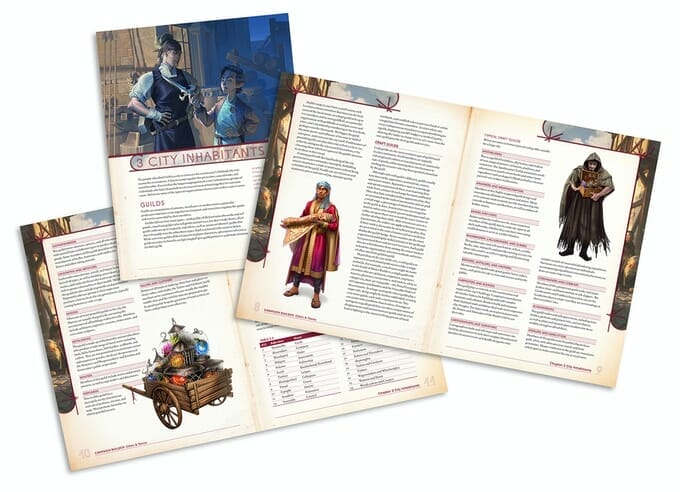 You can support the project by sharing it with friends or pledging some cash. If you can offer $29 or more, you'll be rewarded with the Campaign Builder in PDF and the Roll20 Creatures & Digital Map Folio.
At $44 or more, the Campaign Builder hardcover is added, and at $74, that's the double-foil Limited Edition version.
There are other tiers up to the impressive $499 Leather Handbound Edition, which is limited to 10 backers, and those slots are shifting.
Level up your geek stat by contributing to the comments.