Urg.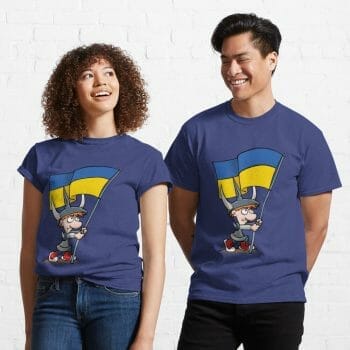 Until May, you can buy this Munchkin Ukraine charity t-shirt with 100% of the profits being donated by Steve Jackson Games to World Central Kitchen to support and feed those impacted by Russia's invasion of Ukraine.
It's a great t-shirt, perfect for Munchkin fans, the usual Redbubble good quality, a slice of history and an admirable thing to do.
However, stealing it is entirely the opposite.
Writing in SJ Games' Daily Illuminator, Hunter Shelburne shares upsetting news that knock-offs are circulating. Hunter says;
However, we did want to bring to everyone's attention that there have been some reported knock-off shirts and merchandise using our art. This is doubly bad since it's not only stealing John's art, but it also prevents legitimate donations to charity. Our RedBubble store is the only legitimate source for shirt sales with the charitable donation, so if you see another user selling this, please let us know.
Geek Native maintains this searchable table of publishers and other members of the tabletop games community who maintain official Redbubble and other merch stores. I did not think to include a way to indicate a charity push in its design, but that page does (try to) show when there's a general promotion.
While writing this post, Redbubble's site tells me the coupon code MIXITUP will give (me at least) 20% off orders. Of course, you may wish to pay 100% for a charity t-shirt.
Quick Links
Scroll down to the comment box below to join in the discussion.