Tilburg-based, The Speechless Bard has hit the target on Kickstarter for a D&D combat tracker that's a physical thing. A gorgeous physical book is actually a box that opens out into a cleverly designed display and set of tokens.
Despite the evident beauty of the physical item, the lowest tier is digital-only. The higher tiers, limited in number, manage the production of the trackers. The later you leave it to back the campaign, the longer you'll have to wait for yours to arrive, and you can tackle that debate over at the combat tracker's project page.
Why the focus on D&D? I'd argue it's commercially wise as it is the dominant RPG in the market and one which combat is sometimes complex enough to benefit from the tracker. The Speechless Bard calls out another important argument; it's also the system that they're most familiar with.
However, at a glance, you can see how much of the tracker system could be helpful for other RPGs as well.
There are three base colours for the leather; brown, grey and red, for the faux pages, you can go for clean, stained or gold, and there are eight different colours for the creature tokens and matching initiative trackers. That's for the basic versions, and enhancements are available.
The combat tracker comes with a 50 sheet and custom-fitted notepad. You can buy extras. There are also Creature Reference cards combined with a fillable PDF for the project so you can make your own to use.
Yep – no big factories overseas, just us two in our own workshops in The Netherlands. Everything we're offering at the moment is designed and crafted by ourselves, with the exception of the extra designs in the stretch goals!
We use machines for laser engraving/cutting the leather and 3D-printers to make the rest of the components, the remaining work is done by hand. Doing everything in-house gives a lot of room for customization, which has become our specialty!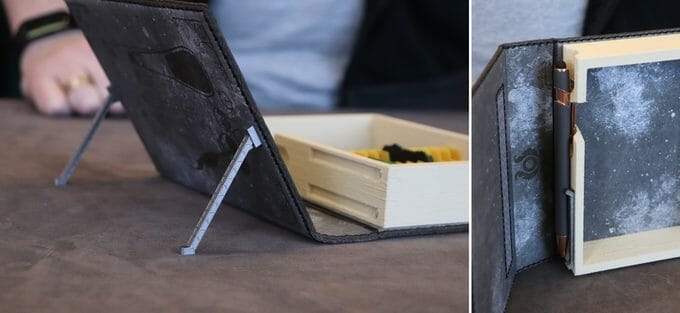 A pledge of €3 will get you that fillable PDF for the Creature Reference cards and any other fillable PDFs unlocked in the stretch goals. This is the digital-only tier I mentioned before.
At the time of writing, there's one other tier left: Wave 5, due September, which sets you back €95.
Of course, The Speechless Bard could add more, but they may also want to manage delivery expectations and workloads. As a result, if you have your heart set on one of these trackers, time may be running out.
Take part in the community by leaving an interesting comment below.