Geeks of a certain age will remember "Robin the hooded man" intro on the gritty and pagan take on the Robin of Sherwood TV series.
The series ran from 1984 to 1986 and swapped Robins, with Michael Praed and Jason Connery as two different incarnations of the bandit.
Another oddity was the timeframe set in the late 12th century, during the Angevin kings' reign. That's Richard I and John.
Spiteful Puppet are taking pre-orders on a new Collector's Edition, with some 500 remaining.
The Robin of Sherwood comic series isn't new; it ran in the YA magazine Look-In beside interviews, features, and other era goodies. With assistance from Rebellion and Chinbeard Books, the publisher has collected the run for this limited-edition and restored offer.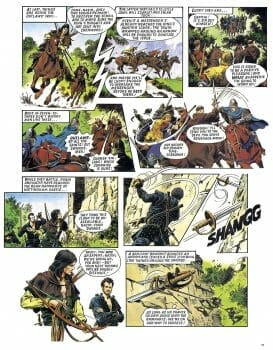 The complete edition comes in 288 pages, will cost £35 on pre-order for the first two months, and if there's any left after two months, the price will rise to £45.
Quick Links
Comments on this article can be left in the box below.