The Old World: Grim and Perilous is now just over 130-pages long. It's an unofficial and fan-made Warhammer fantasy rulebook that uses the Genesys RPG.
In full colour and carefully made, the game combines elements of Warhammer Fantasy Roleplay (editions one to four) with the simplicity of the Genesys system. The expansion adds talents, skills, careers, and new rules for magic, corruption, and social status.
Cautious about protecting intellectual property, Geek Native spoke to some of The Old World Grim and Perilous Project team who believe they strictly respect the guidelines for fan-made content available from Games Workshop.
The expansion isn't for sale at DriveThruRPG, therefore isn't part of the Genesys Foundry. However, it's not for sale at all. The Old World: Grim and Perilous is entirely free.
I'm not sure it counts for much, but a disclaimer at the start of the homebrew also insists the download can't be sold and represents no challenges to the rights holders.
But what about art? The game has lovely art. As it turns out, that's the work of Barbara Szymańska from The Old World Grim and Perilous Project, and it's unique.
I was so impressed; I also got permission to share it here.
However, it's worth noting that as The Old World focuses on the homebrew mechanical conversions, it is light on fluff, and you really need some sort of knowledge of Warhammer's Old World to play the game as intended. That's not to say you couldn't use the system for your own bleak and deadly fantasy setting, but it wouldn't be the same.
If you really want to dig into the guts of the expansion, then you might like to know that some of the characters featured are also from Polish LARP Groups.
The impressive Old World map now featured in the download is by Kartografia Niepraktyczna.
It's not finished yet, and the next update will introduce the final 10 specialisations and illustrations. A Polish version is also planned.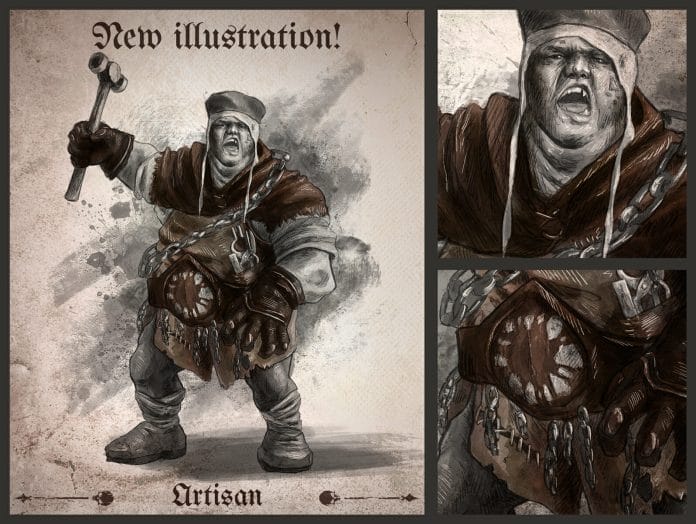 Quick Links
Join the discussion and leave a comment below.