Who else has a problem with hardback giants falling over in the dead of night? I'm looking at you; giant RPG tomes!
Dark Horse and Bethesda have teamed up for what might sound like an unlikely first – the first official Skyrim bookend. It's to celebrate The Elder Scrolls V's 10th birthday.
It sounds unlikely, but it looks incredible. The imposing sculpt also looks big enough to support even the largest of tabletop gaming systems too.
The dragon skull bookend is 9″ high, by 7″ wide and 5.44″ deep. So, yeah, it'll take up a bit of space on the bookcase itself!
Most Nords of Skyrim believed Dragons were only a legend. Until now."
The skull is mounted on a Windhelm-style stone wall, and the Skyrim logo appears on the side.
Sculpted by Joe Penna, the skull is made from polyresin, and there will be only 2,000 made in this edition.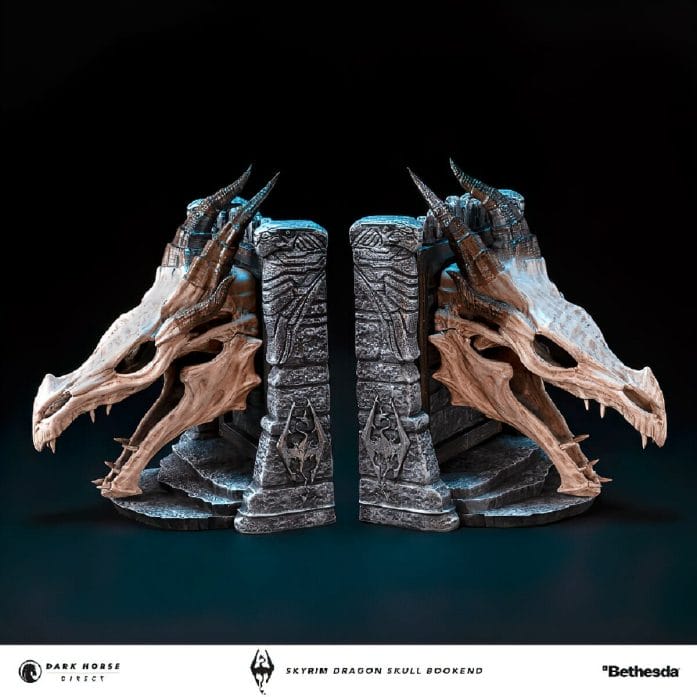 Each bookend is $99.99, but if you buy two, the traditional number for bookends, there's a $15 discount. There's also a certificate of authenticity, which is undoubtedly a ploy to keep your paperwork high and race you towards needing more bookends.
Quick Links
Start up a conversation in the comments below.