The Gobin's Henchman is on to a winner with the Weather Hex Flower.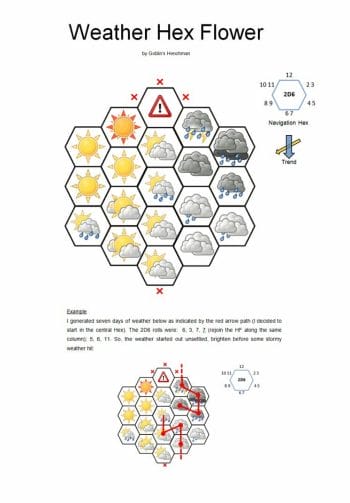 I'm very happy for you to pay nothing for this product; and anything given to me will only be frittered away on RPG-related wares anyway. That said, even a nominal sum like 50 cents seems to bump this thing up the DriveThru charts, and it encourages me to make more things like this!
Enough people have found the Weather Hex Flower and decided to pay for something they could get for free to make the download a bestseller at DriveThruRPG.
I think that speaks volumes, don't you?
The concept is straightforward and amazingly clever. Don't roll randomly to see what the weather is — weather isn't random, not usually. Usually weather transitions.
The Weather Hex Flower is a memory system and a generator. Total 2d6 and move your weather from one hex to the hex in the direction of the 2d6 total.
That means you're likely to be heading towards 7 and unlikely to be heading towards 12. Weather Hex Flower puts more typical weather in the 7 direction and the dangerous weather in the 12.
If you happen to go off the edge of the Flower, where it's allowed, you loop around, which provides for the occasional dramatic change of weather.
Page 1 of the download is also the download's main content. It's spoilers. You don't even need to download the thing! (And it's still a best seller). There is page 2 with an example and suggestions for other clever hexes that Henchman has developed.
Quick Links
Your thoughts? Join the banter below or start us off with an insightful observation?