This blogger rather enjoyed the Eternals; it was different, sometimes for the worse, sometimes better.
I think Lauren Ridloff, a deaf talent who played the speedster Makkari, was one of the better differences.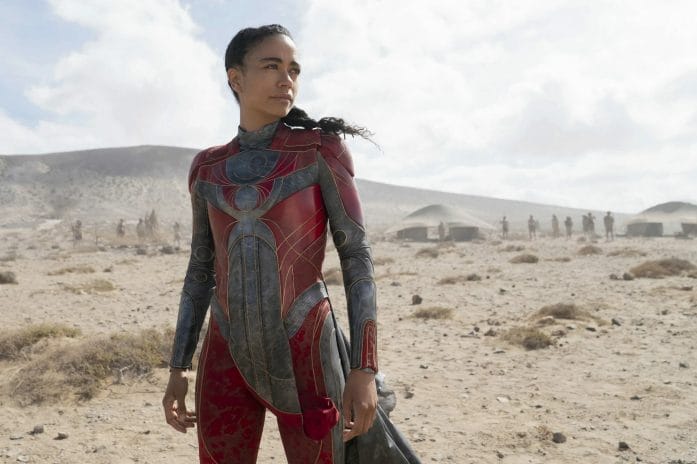 Today, the learning site Preply has shared some tips on how to learn ASL/American Sign Language. The cast of the $162 million opening weekend movie managed, each of them learning enough ASL to communicate.
Amy Pritchett, Student Success Manager at Preply, tips;
Learn the 100 most important words – nailing the essentials like "thank you" and "please" mean you can jump straight into getting into a conversation.
Learn the finger alphabet – this will give you the ability to sign any word as if you do not know the sign you can spell it.
Learn to sign "how do I sign…" – this means you can ask for any sign and continually learn on the go.
Learn phrases you use frequently – this will make your sign much more fluent, especially when in conversation with somebody.
Conversation – As soon as you know some basic words and phrases you can start signing straight away, This is key to learning any language.
Don't be afraid to make a mistake – stretching what you know and making mistakes will help you learn. Some people even learn faster when making mistakes.
Ask for help – a strict translation of a word into a sign often doesn't give the context and meaning essential to communicating so ask a teacher or deaf person what the best sign to use is.
Practice in the mirror – it can benefit you to help understand what other people are seeing when signing. Looking in the mirror will help make sure shapes are accurate and that you are engaging with financial expressions and eyes
Be aware of deaf values, understand the frustration involved with the lack of education. The more aware you are of these issues means you will understand the strength and tradition of the language.
Practice makes perfect – to remember most of the signs you are learning in sessions, make an effort to practice during the rest of the week.
Preply has been watching search trends too. Tracking keywords like "American sign language phrase", "deaf superhero", and "asl" has risen by 285% since last year.
Ridloff has told the press that it is important for children to see characters like Makkari in the MCU. I learned the BSL (British Sign Language) alphabet as a kid and still infrequently use it. If I can, anyone can.
Quick Links
Rate any comments below thumbs up or thumbs down if you find any particularly helpful or agreeable.