Traveller's Little White Book that reproduces the 1981 rulebooks and the brand new Classic Traveller Fascimle Edition are found in the latest scans available at the Bundle of Holding.
The deal has just launched. At the time of blogging, there are more than 22 days left on the clock to grab the offers in the Traveller Imperium Tour. We're told there are 11,000 worlds to visit.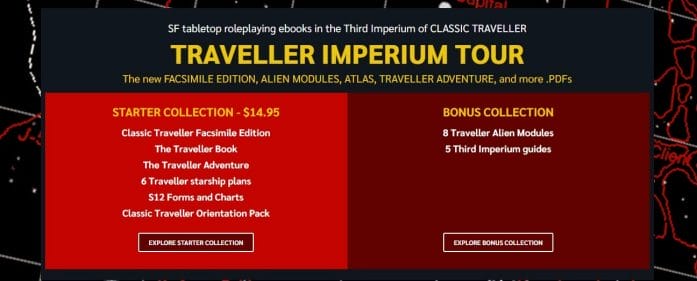 Starter Collection – $14.95
There is $69 retail value worth of DRM free (but watermarked) downloads at this tier.
Classic Traveller Facsimile Edition
The Traveller Book
The Traveller Adventure
6 Traveller starship plans
S12 Forms and Charts
Classic Traveller Orientation Pack
Bonus Collection
The threshold price, the average that people are offering, started at $29.95. In exchange, this tier provides a further $150 worth of Traveller RPG content.
8 Traveller Alien Modules
5 Third Imperium guides
Quick Links
You can find thoughts and opinions on this article in the comment section below.