I enjoyed Pompo the Cinephile very much.
I watched it in the cinema, at an anime festival, and the chaps leaving the theatre behind me didn't enjoy it nearly as much. They got lost in the editing arc of the storyline, and, yes, that's rather long. But it's the point of the feature-length.
As it happens, the headline character Joel Davidovich Pomponette, aka Pompo, isn't significant to the story. She's just a mad quirk or a hook to get your interest or push you away. She's a gamble, and the movie is all about a gamble she makes, the risk and sacrifices made even to get that far.
It's not Hollywood, but Nyallwood. It's similar to Hollywood but an optimistic version of it. It's so lovely that even bankers are kind, and Kickstarter projects spring to life with ease. It boggles the mind that such a vision of movie-making could ever come from the notoriously grim grind of anime production houses.
The Pompo quirk
Pompo runs a studio, having inherited it from her famous and wise movie-making grandfather.
However, Pompo is a talent herself. She brings out the best in actors, in the crew, scripts and runs a tight shop.
For some reason, Pompo only seems to make cheesy b-movies. You know, with teens in bikinis running from tentacle monsters. She's the class and skill to make a triple-A, and she has the contacts, but she sticks with b-movies.
The quirk I talked about? That push/pull factor? Pompo is a kid.
My favourite gag in the anime was a running one. Whenever Pompo arrives anywhere, she kicks down the door and announces, "Pompo has arrived!"
Pompo's gamble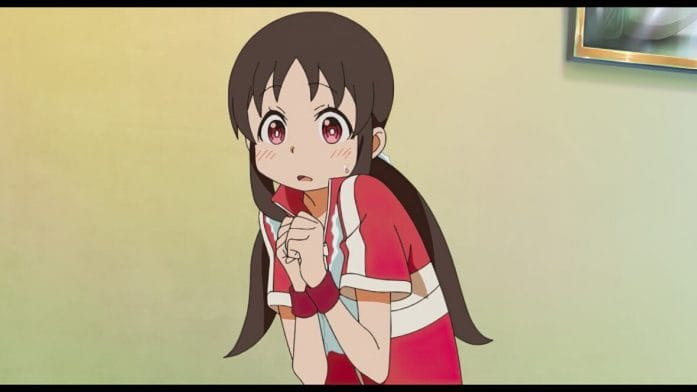 As quirky as the headline character is, she's not essential in the plot.
Instead, we follow the forever tired assistant Gene. He's a geek, a nerd, a film-worm and looks to be on his last legs running tasks for Pompo while trying to learn the art of movie-making.
Pompo decides to let Gene make a movie. It won't be any movie. This will be the triple-A movie everyone is expecting her studio to helm. We're about to embark on a make or break for most of the people involved.
Pompo does two other things; she gets "the most famous actor in the world" out of retirement to be the main male lead, and she casts an unknown, previously dismissed to her lack of talent, cast as the lead female role.
On you go, Gene, make a movie out of those two.
The editting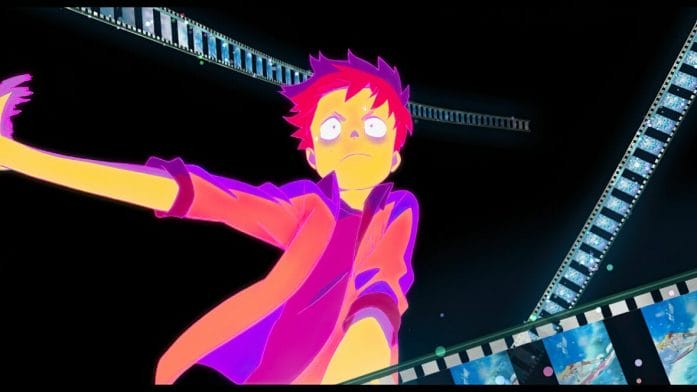 And, weirdly, all this works.
I even like the editing scenes. The movie's first half introduces the characters and then, filming the make-or-break attempt an Oscar-winning blockbuster.
I estimate, therefore, safely half of the movie is the editing process and the pains involved in that. The argument here is that to be successful, you have to make sacrifices.
Gene's made sacrifices for his art, his film-making ambition. Pompo and the other characters have made sacrifices of their own.
So, while Nyallwood appears to be a naively joyous view of Hollywood, there's actually a whole shadow of human darkness lurking below the surface here. Perhaps that's why Pompo sticks to filming monster movies on sunny beaches.
Look and feel
Pompo the Cinephile is literarily an anime within anime. This also works. The two styles of animation are distinct and yet complementary.
You could sit a youngster down in front of Pompo the Cinephile, tell them it's about someone their age running a movie studio, and they'll enjoy a colourful animation.
You could sit down to watch the show, having to be forwarned that there's more than mere hints of profound human nature slyly laced in the plot, and you'll also enjoy the sly touches of shadow in the visuals.
Overall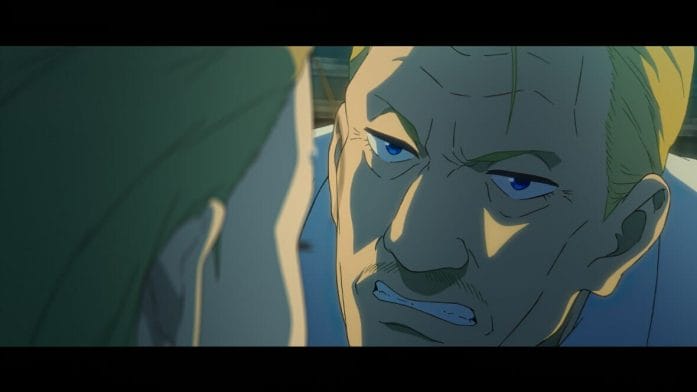 A surprise hit, even if… and we can all soak up the irony, the editing arc could maybe have done with a fraction more editing.
I promise you'll have thoughts about art in general and what it takes to be successful after you watch this one.
One last thing, I expect Pompo will get a western release, but for now, you can read the manga.
Join the discussion and leave a comment below.