I suspect the common wisdom will be that you have to know the Knights of Sidonia anime to appreciate the feature-length Knights of Sidonia: Love Woven in the Stars.
I'm not sure you do. If necessary, you can handwave almost all of Knights of Sidonia by saying something cruel like, "It's Battlestar Galactica except the human race is running/fighting biological aliens instead of robots".
Cruel, but also kinda true.
In the movie, which picks up in the ending moments of the series, the humans have won an important battle. Now they want to reach Planet 7, colonise it and call it home. Old habits, huh?
The plan involves building a distributed Death Star, so they have a laser big enough to blow up any alien mega ship that gets too close.
What could go wrong?
The main problem with the Battlestar Galactica summary is that it does not explain why a Beluga whale of a tendril is onboard the human ship that seems to have a romantic crush on one of the hotshot pilots.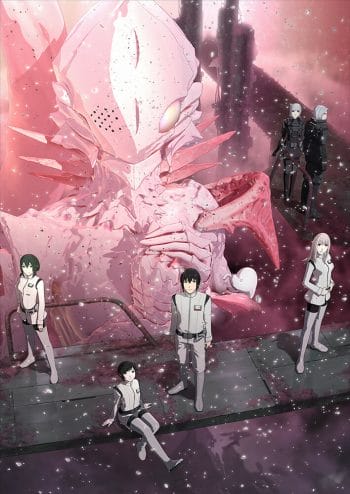 I'm not sure it's that much of a problem.
As you might imagine, the action instead pivots around this race to build the distributed Death Star and the necessary power converters before the alien armada gets too close.
Along the way, the movie ties up some loose ends. If you know the series and remember the plot strands, then you'll probably welcome most of these.
If you don't know the series, it doesn't really matter. I mean, why is the cook a bear? It was never really fully explained, it is now only hinted at a little more, but it's all incidental.
Instead, the main plot problem is how often you can allow the humans or aliens to have just one more trick up their sleeve. It wasn't their final form. There's one more hidden gun, or mecha upgrade, or secret ace fighter in training. That sort of thing.
Love Woven in the Stars, true to Knights of Sidonia's form, has loads of these gotchas.
Look and feel
It feels very much like Knights of Sidonia. The fact that the action picks up immediately from the end of the Netflix series helps. You're thrown straight back in.
This is weird, but I think the animation looks less CGI than the TV series. It's still the same style, but it seems more hand-drawn, less pixel-edged, although this may be because I saw it on the big screen. It might also be technology advancing rather than an artistic decision.
Importantly, I think the feature-length feels like the TV series all the way through. It picks up from where it left off, moves the plot forward in giant leaps but stays on track.
We get to an ending, not necessarily a final-final finish, but a conclusion. If you've invested time into seeing whether humanity can survive, then this movie has the answer, and you won't feel cheated by it. It feels like a Knights of Sidonia answer.
Overall
You don't need to have seen the series, but it'll help.
That said, this is a movie for fans. It's a terrible introduction to the Netflix show, don't watch it first if you can avoid it. It's a huge spoiler. Watch a short episode instead; if you like that, you'll enjoy the movie.
I did, but it's a tuck in rather than an award winner.
What do you think? Let us know in the comments below!