Fragments of the Past is a bronze-age tabletop game that is in development and looks good.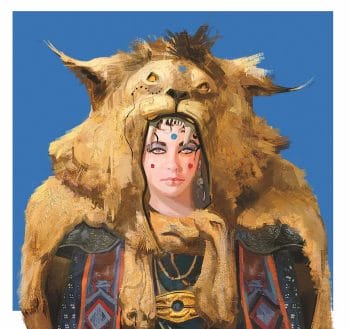 In exchange for joining the mailing list, you can download the quickstart for free, and it's 110-pages with 40+ illustrations.
The mailing list, so far, has been super quiet, though. We're told that the project has been live in the two years for there have been only two mails.
Inspired by ancient life along the Mediterranean Sea, the game channels but is not based on Greek myths. It's available in English and Italian.
Fragments of the past is a vast setting in which a series of illustrated books and a tabletop role-playing game take place.

It is a world inspired by the blazing energy of epic poems and the legends of the archaic Mediterranean civilizations.

You will live prodigious adventures as one of the characters celebrated in the ancient myths.
The setting is very low-fantasy, leaning strongly towards historical and with a system different enough from d100 games like RuneQuest to make inter-compatibility is limited.
Characters are defined by Epithets and Passions and have Fortuna points and Hybris points to describe their relationships with the Immortal Gods and the extent of transgressions that they will inevitably commit during their life.
Quick Links
Join the discussion and leave a comment below.