The Forged in the Dark ruleset is used for the second edition of the dystopian sci-fi a|state. The cult hit asked for £8,000 and hit that goal in a little over an hour.
The limited-edition version of the hardcover is available only in two tiers, both limited to 100 slots. It got my money, securing one of those books before I wrote this up for you. Sorry! You can join the campaign at Kickstarter.
a|state is a baroque nightmare known as The City. In a twist, your character's ability to care in this dark alternative is as important as your ability to fight.
In keeping with Forged in the Dark games, you'll be defending your small patch of ground from gangs, industries and the consequences of your own actions.
Children tilt down alleys, chanting bloody nursery rhymes, while withered men shout warnings from tenement windows.

Factory workers crowd sweating into cable cars, hoping their pay will last the week. Aerodynes roar above them, bearing the rich to luminous towers.

Under gas lamps and flickering electrics, the Provosts pull a body from a canal, a ceramic blade jammed in its chest. You know the truth: this wasn't a robbery gone wrong. In a distant office, a red line was drawn across a map, and now your home is in danger.

This is the story of how you fight back.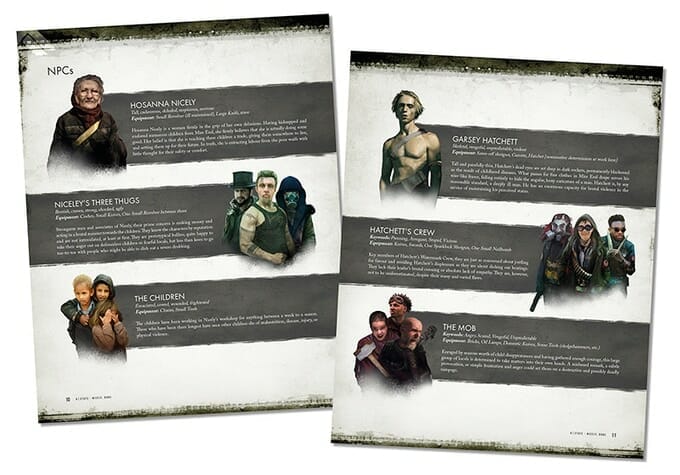 A 132-page PDF is yours when you pledge. You can find that in the first update in the backers' section. There's also a free settings primer called "Nicely,Done" on DriveThruRPG.
The complete rules as The Trouble Engine, a system to create problems for your player characters to solve, 20 playable locations and details of the factions.
A pledge of £15 is rewarded with access to the a|state channel on the Handiwork Games Discord, the digital pack and, of course, a PDF copy of the game.
The hardcover is added to that list of appropriately gotten gains for a pledge of £36.
It takes £100 to secure the limited edition instead of the standard edition with art cards, a compass, a signed bookplate, a table tower, a play mat, and even a punch clock set!
Want it all? £170, and you're done, but both those latter tiers are likely to sell out.
The estimated delivery is in June 2022.
Can you make this article better? If you have inside knowledge or a unique perspective please share in the comments below.