Usagi Yojimbo is an Eisner-winning comic book series from Stan Sakai about a samurai rabbit and friends. It's also a Powered by the Apocalypse gold class bestseller at DriveThruRPG by Sanguine Productions.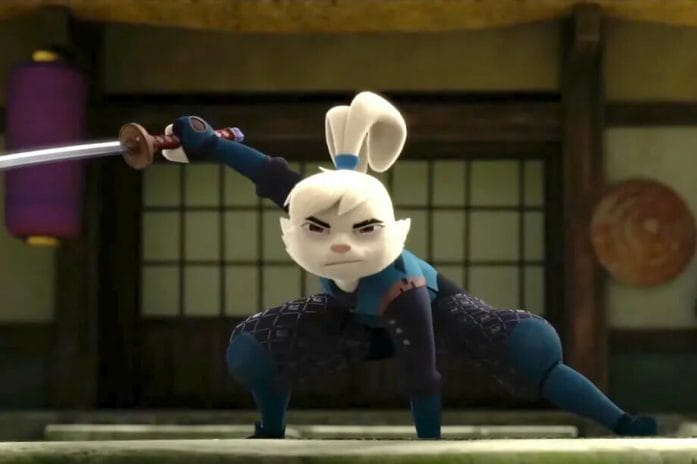 At SDCC, Netflix ran a digital panel to showcase its upcoming animated series, and from that, we got a glimpse or two at the project (skip to about 34 minutes for that).
Notably, Netflix's show doesn't follow the main character, Miyamoto Usagi, but a descendent, Yuichi. This gives Netflix loads more creative freedom.
Netflix describes the show;
The series takes place in the far future, set in a world that mixes modern high-tech images with classic Japanese references. It follows the teenage Rabbit Samurai Yuichi, descendent of the great warrior Miyamoto Usagi, on his epic quest to become a true samurai. But he isn't alone! He leads a ragtag team of misfit heroes – including a roguish bounty hunter, a cunning ninja, an acrobatic pickpocket and a faithful pet lizard – as he battles depth-charging moles, metal-tipped winged bats, and monsters from another dimension, all in the pursuit to become the best samurai Usagi!"
Sakai, who has been personally drawing the series for nearly four decades, is closely involved.
I approve everything. And have input at every stage of the animation process, from the story to design to animatics, even to the choice of voice actors. It's something I'm very involved in. Gaumont [Studios, the co-producer], Netflix and I have a great working relationship. There's a mutual respect all around – respect for each other, respect for the property of Usagi and also respect for the Japanese culture, which is very important to me."
Quick Links
Share your views on this article in the comment section below.