Did you miss out on the Good Strong Hands in lovely hardback? Geek Native has just wrapped a competition to give one away for free. Fear not, Geek Native patrons will get a free digital copy.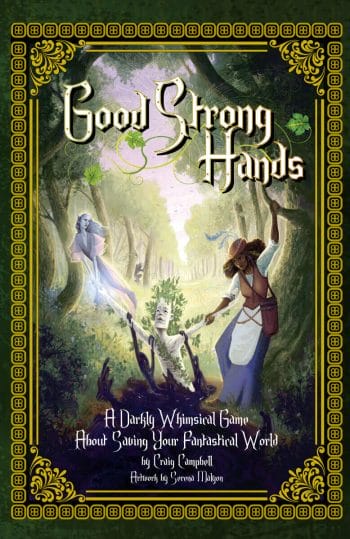 If you're not already a Patron, then anyone who signs up within the week (that means until the 29th) will also qualify. That should mean (jinx), Patron processes supporters at the end of the month, and I'll be given a list of people to treat a few days later.
Thank you to NerdBurger Game for making this gift possible. It's a chance to plug their physical version of this dark fairy tale. I wish I had a hardback!
Thank you to Geek Native's Patreons. You make a difference. Money from the Patreon goes neither into my pockets, nor even site costs, but back to the tabletop community with art and article commissions.
In Good Strong Hands, players are in a fantasy world with talking animals, sentient objects, fairies and other creatures that might have come from a movie studio and theme park operator with big ears. Sound lovely? There's a catch. The world is being eaten away at the edges; a corrupting force pushes ever onwards. Think Neverending Story.
It's this corrupting force that wants to turn the heroes and push them into darkness too. Good Strong Hands has a system for that, which makes the game memorable!
Geek Native gifts
How often do gifts like this happen? Sometimes. No promises. Good Strong Hands is the 6th gift in 2021, so that's not a bad run rate.
You can see an archive of previous thank you gifts over at the Patreons gifts page.
Quick Links
Join the discussion and leave a comment below.