Bee and Crow are young adult creators who created and are giving away the core rules for The World of Wyldrvir (Google Drive). Or, to support the pair, buy for $10 from DriveThruRPG or merch from Redbubble.
As it happens, the clever pair use Carrd as a handy way to point curious potential players and GMs to a range of assets, including a Discord.
Bee is a 21-year-old Latino writer and co-creator, Crow, a non-binary 19-year-old. Both wrote, Crow did the art, and I had the chance to talk to Bee about the game.
The World of Wyldrvir is unusual with its Saturday morning cartoon style and combat free approach.
Could you introduce Geek Native's tabletop gaming community to The World of Wyldrvir, please?
World of Wyldrvir is a wholesome indie TTRPG. The game is built around the idea of traveling around a magical world with your friends in a safe and cozy space. The monsters are adorable, the people are kind and the world is full of exciting places to explore. The character creation is meant to be breezy and simple while still allowing a lot of flexibility with attributes, everyone has magic if they want it. And Wild magic Is everywhere. You can explore the world, make friends, and get loads of pets as you go on your journey through the 6 city states and beyond!
Why do you think RPGs with that sense of security built into them are so rare?
I think RPGs with a sense of safety are rare due to a few reasons. One is that people want to earn victory and safety in more violent games. Conflicts in the fantasy genre are usually resolved with bloodshed. Happily Ever After only comes after the monster is defeated, and also because of precedent. The games that came before inspire the games of today, and we can tie the TTRPG genre closely back to war games like Warhammer. The want for safe games comes from the sense that in a world with all of that as the precedent, exceptions should be available. There should be places and worlds that feel safe. You should be able to fight for your life in one game, and relax in another. Variety is the spice of life.
My favourite twist in The World of Wyldrvir is that orcs are known for their kindness. What are yours?
The Wyldrvir Orcs are inspired a lot by the idea that nature is something to be shared, and them sharing what they have is a reflection of the bounty of the world. I do enjoy that a lot. I think my personal favorites are the Created though. Robotic life that instead of being hated as we see in a lot of AI media, see The Warforged or even Detroit Become Human. The Created are loved and treated just the same as anyone else. They have their own identities and live their own lives. Also The Monster Helpers guild are the people who take care of Wyldrvir's creatures when they go "wyld". Instead of hunting they play with the creatures and calm them down!
As noted in my introduction, gamers can buy the 43-page PDF from DriveThruRPG, but you're also giving the RPG away for free; why is that?
The game started as a personal quarantine project, and at the time the idea of putting a price tag on something someone could need to escape for an hour or so felt wrong. We all needed something a little bright in that time, and we wanted to provide. We were also unsure of traditionally publishing at first since I am only 21, and Crow is 19, but we worked together and made the anniversary edition which we hope Is worth the price tag! The other expansions are all on the free Google Drive though!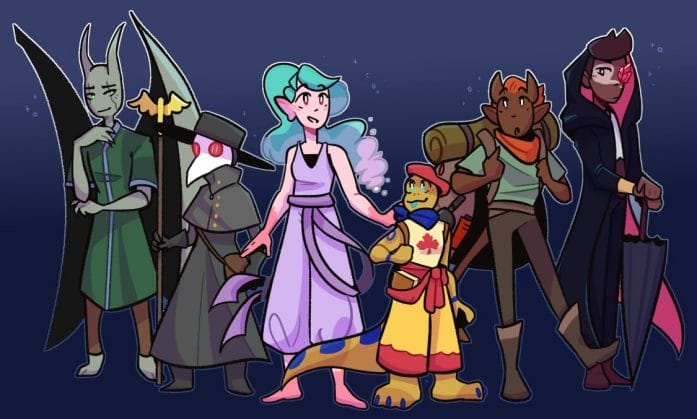 I notice you have a Redbubble store, good choice, but are there other ways in which people can support you both as creators?
We have a Patreon! People who would want direct downloads of podcast episodes, updates on what we are doing and some extra goodies could give from 3-10 dollars on there! We really appreciate it!
I also recognise Cardd as a site. That's a platform that is popping up on my RPG blogging radar more and more. What do you think readers might like to know about it and how you've taken a digital/social media approach to The World of Wyldrvir?
Carrd is a great way to link ALL of your work in one spot. You can join our Discord follow our Twitter, buy the book and more in one space. We took a digital approach since that's what we knew, and what I was able to work with coming off the heels of The Frost Walkers Podcast. It was a 5E podcast. I think that I just did the same skills I used to get that off the ground for Wyldrvir, which Is why we made a Podcast too!
And why not Kickstarter? Is it just because you put the first edition together so quickly and might do one in the future?
A lot of factors came into it. Including us both being in school, we both made it as suddenly as we did. We wrote the book in one weekend. We would have nothing much else to kickstart since all the writing was done. It felt disingenuous. So we decided to go our own way and do something a little different.
What do you think the most important things you've learned by making this RPG together are?
How much TTRPGS mean to people. The fact Wyldrvir took off and how many amazing people. From shows like Transplanar, to Beholder to No One, even personal friends sat down with us and tried our world and got into their characters. It meant a lot. Showed the power of telling stories! I have made many friends through it too and got closer with Crow!
What's getting you excited out there in the tabletop roleplaying community?
A lot of things! I am super happy to see all the new people, and the chance to work with more and more inclusive and diverse communities! I think the space is widening for everyone, which is exciting and important for the longevity of the hobby
What next for The World of Wyldrvir?
Well in the immediate we have 2 or 3 more book ideas fully hashed out, A Summer Camp, A Magic School, and a very Wyld Wood. After that, we have a lot of space to play. As always my mind is buzzing with ideas, but I think I will have to be hush hush about them for now. Though I will say, I would love to give Wyldrvir takes on the amazing places in our world. When we did our ocean based book, I learned so much about marine life, and I would love to do that again with authors who live in those communities and can represent them in a sensitive and respectful way. We would also love to facilitate more group podcasts set in Wyldrvir, and more stories and oneshots.
What next for you?
I am always thinking up new ideas! I have been dreaming of one that is a podcast about podcasts. With each episode set in another TTRPG shows world. As this renegade dimension hopper goes from one to the other hoping to get his butt home! I am also writing for other people's TTRPGS! Which is very exciting!
Quick Links
Take part in the Geek Native community by sharing a friendly comment below.