Dune: Adventures in the Imperium is, finally, out as Modiphius bring the iconic sci-fi setting to their 2d20 system. In the pre-order phrase, £250 Collector bundles of the tabletop RPG were selling out.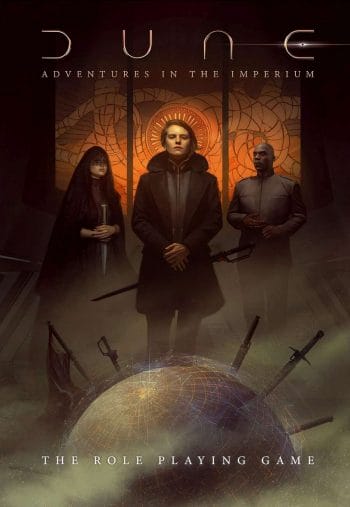 If you couldn't afford that and missed out like me, then there's some good news today. The publisher has made Dune: Adventures in the Imperium free in a Quickstart form.
Wormsign is a 32-page PDF which introduces you to the complex and dense setting (Modiphius call it Byzantine), the basic rules including social and physical combat, 6 pre-genned agents of House Atreides and an adventure to play through.
Welcome to the last years of the Imperium, an era tens of thousands of years into the future. In this time the Known Universe is ruled by the Emperor and the Great Houses. It is a feudal place, where noble families rule whole planets in the service of the Emperor, but politic ruthlessly in the shadows for power and control.

Many, many years ago, humanity was enslaved by its own creation, thinking machines. After a long war for freedom (called the 'Butlerian Jihad') humanity vowed never again to create thinking machines. Unfortunately, humans had become so reliant on them it became a difficult vow to keep. So, several 'Great Schools' were created to teach humankind the skills they lacked and realize their true potential. One such school developed Mentats, human beings trained to think, analyze, and remember even more efficiently and quickly than any computer. Another renowned school is the Sisterhood of the Bene Gesserit, who have learned such control over body and mind that people consider them 'witches'. The third great school, the Spacing Guild, controls foldspace technology, the only known means for safely crossing vast interstellar distances in moments without a need for navigational computers to calculate a safe route.
You'll need a set of d20s, up to five, tokens, ways to take notes and printouts of the pre-genned characters to play. The latter, of course, the Wormsign download includes.
The Wormsign adventure begins on page 13 of the 32-page download, taking up two-thirds of the space. It's a reminder of how streamlined the core rules can be.
The basic rules outlined in the Dune RPG quickstart include Focuses, Drives, Difficulty 0 Tests, Common Uses of Momentum, Adding to Threat and Spending Threat. In a section of their own, the conflict rules get into Defensive Assets, Targeting Assets, Creating a Trait or Asset and Aiding an alley.
Wormsign doesn't get a cover of its own, using the same one as the digital Dune RPG gets, but does include atmospheric art to give you a good sample of the look and feel of the full game.
Quick Links
Take part in the conversations on the site and leave a comment below.