Here in the UK, the cinema scene took a terrific knock during the lockdown, we're still not in the clear yet, but some chains like Showcase Cinemas and Cineworld are beginning to open.
It looks a bit better in the States, with Demon Slayer the Movie breaking records and films like Jason Statham's Wrath of Man in theatres.
Are you looking forward to going back? Or are you dreading being invited?
A fun study from the University of East Anglia suggests that movie screens make for a better experience than a home cinema. Now, this is not a peer-reviewed study and has a sample of one – the comedian Keith Lemon, but it's hard to resist a tech-meets-entertainment story.
Okay, so that's the comedian bit, and in all seriousness, I understand that the cinema companies have to try and find a way to persuade punters back into their venues.
Did you see how comparatively slender those eye-tracking glasses were, though? At first, I thought they might be part of Lemon's typically bold fashion choice. But no, they're the tech.
That tech enabled the science part of the story; the heat map of where Keith was looking during the home test on a 40″ screen and the cinema test.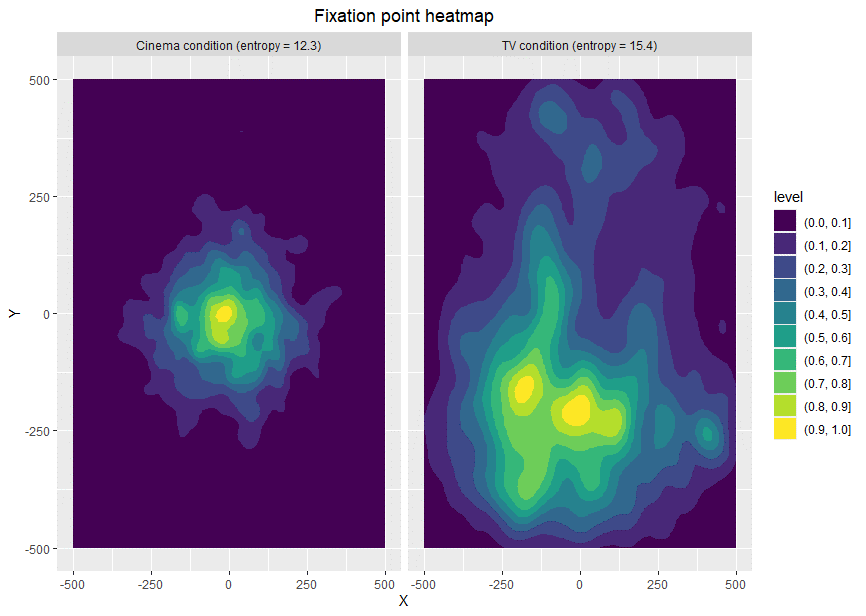 Dr Samuel Forbes, from UEA's School of Psychology, explained;
Keith's eyes were tracked in the same way when watching the film on the big and small screen. The measurements, using a heatmap, showed where his focus was concentrated at all times and indicated that he was more focused in the cinema.
The heatmap has a more dispersed pattern when he watched the TV, suggesting he was more distracted (looking around and not paying full attention to the movie), as opposed to the more concentrated pattern in the cinema condition, highlighting his greater focus on the big screen.
Keith's expressions also indicated more variability in the cinema. Keith showed a higher number of facial expressions (3.2 per minute) in the cinema than in when watching the movie on TV (2.6 per minute).
Keith showed a higher number of negative expressions, for example expressions that may indicate boredom, when watching the TV, where 71% of reactions were coded as negative.
Keith also looked away from the TV screen 4 times but did not look away from the cinema screen at all and remained engaged with the film, even when reaching to eat popcorn.
I would have liked to have known what Keith Lemon was watching and whether he had seen it before. In my experience, some films are better suited for the cinema screen.
Equally, if you've seen an original movie or even watching the same film twice, it matters where you watched it for the first time.
Those data-miners at the marketplace OnBuy recently sent in some IMDb digging on remakes.
Surprisingly, for me, remakes that were considered better than the original scored higher by margin than originals considered better than their remake.
Top 10 most improved movie remakes
Ranking
Movie
Original IMDb Rating
Remaking IMDb Rating
IMDb Rating Improvement
1
Casino Royale
5.1
8
+2.8
2
Dredd
5.6
7.1
+1.5
3
Victor Victoria
6.2
7.6
+1.4
4
Ocean's Eleven
6.6
7.7
+1.1
5
The Thing
7.1
8.1
+1.0
6
True Lies
6.3
7.2
+0.9
7
Little Shop of Horrors
6.3
7.0
+0.8
8
Dirty Rotten Scoundrel
6.8
7.4
+0.6
9
It
Scarface
The Departed
A Little Princess
The Fly
6.8
7.8
8.0
7.2
7.1
7.3
8.3
8.5
7.7
7.6
+0.5
10
A Star is Born 2018
A Star is Born 1954
Ben-Hur
7.3
7.3
7.8
7.6
7.6
8.1
+0.4
Bottom 10 movie remakes that lost points
Ranking
Movie
Original IMDb Rating
Remake IMDb Rating
IMDb Rating losses
1
Scooby Doo
7.9
5.1
-2.8
2
Charlie and the Chocolate Factory
7.8
6.6
-1.2
3
Beauty and the Beast
8.0
7.1
-0.9
4
Let Me In
The Magnificent Seven
7.9
7.7
7.1
6.9
-0.8
5
King Kong
Father of the Bride
7.9
7.2
7.2
6.5
-0.7
6
Heaven Can Wait
The Parent Trap
Dawn of the Dead
7.5
7.1
7.9
6.9
6.5
7.3
-0.6
7
Three Men and a Baby
Peter Pan
6.6
7.3
6.1
6.8
-0.5
8
Cape Fear
Nosferatu
7.7
7.9
7.3
7.5
-0.4
9
Invasion of the Body Snatchers
Hairspray
Twelve Monkeys
7.7
6.9
8.3
7.4
6.6
8.0
-0.3
10
A Fistful of Dollars
The Birdcage
The Jungle Book
8.2
7.3
7.6
8.0
7.1
7.4
-0.2
I'm not sure it's entirely fair to compare Scooby Do's first live action to a cartoon series, but no one said remakes have to be in the same medium. Isn't also odd to imagine that Shaggy is played by Matthew Lillard, who is now the CEO of Beadle and Grimm's. Beadle and Grimm's makes luxury copies of RPG books, including for D&D.
Share your views on this article in the comment section below.