The last time Catalyst Game Labs' BattleTech: A Time of War was available as a deal on the Bundle of Holding was 2013. It's back today and will be available until June 7th.
Characters in the game are pilots, spies, scientists or even merchants in the stellar empires of the future. They'll get caught up with the Clans, Inner Sphere and Periphery.
10% of the payments you make, after processing fees, go to support charity and you can pick up the bundle from today.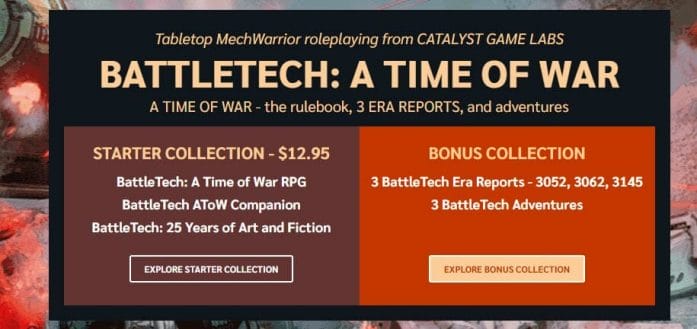 Starter Collection – $12.95
The Starter Collection includes the 410-page and full colour A Time of War core rules. In total, this tier has a retail value of $50.
BattleTech: A Time of War RPG
BattleTech AToW Companion
BattleTech: 25 Years of Art and Fiction
Bonus Collection
The Bonus Collection price will change as people pay to meet it, rising as people are charged more to meet the average amount offered. It has a retail value of $63.
3 BattleTech Era Reports – 3052, 3062, 3145
3 BattleTech Adventures
Quick Links
Join in the discussion below, start us off or pop over to the chat portal.