Steve Kenson (Mutants & Masterminds) and Ad Infinitum Adventures have the Icons superhero game in the Bundle of Holding. Not once, but twice.
There's no setting, just lightweight rules and a Silver Age vibe. Or, you know, you could recreate Jupiter's Legacy.
Icons
You can grab the first Icons bundle with $14.95, or by beating the threshold price to get both tiers. This bundle has run before, in 2016.
Player Collection – $14.95
The retail value of the Icon downloads in this tier is $67.
Icons: Assembled Edtion
Great Power
Hero Packs 1, 2, 3, 4, 5
Game Master Collection
This tier has a retail value of $62, and the price for it will increase over time as people have to beat the average to secure it.
Icons A To Z
Adversaries
Rise of the Phalanx – Complete
6 Icons adventures
Icons Universe
The second bundle collection is brand new and available as Icons Universe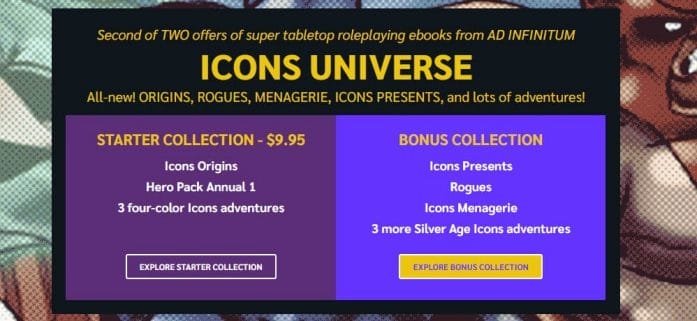 Starter Collection – $9.95
The retail value of the Starter Collection is $38.
Icons Origins
Hero Pack Annual 1
3 four-color Icons adventures
Bonus Collection
Beat the threshold price to unlock $46 worth of more Icons downloads.
Icons Presents
Rogues
Icons Menagerie
3 more Silver Age Icons adventures
Money from these bundles goes to support the Transgender Law Center.
Quick Links
Got any exciting geeky news or useful RPG tools? Get in touch through the contact form.