The usual rules for Irregular Reconnaissance: Anime have been tossed out the window for this article.
Typically, in any Irregular Reconnaissance: Anime write-up, there will be at least three episodes for anyone anime in the mini-review. However, we're at the start of a new season, there's a whole host of promising shows out and this week, we're taking an early look at them.
I know it's hard to judge an anime after just one episode, but we can certainly get an idea for the visual style, and every single show mentioned below looks great. Also, we can rule out any shock disappointments like The Way of the Househusband.
These early looks at the new season also act as a placeholder for you. Have you caught any of these anime as well? What are your first impressions?
Let us know in the comments below!
Tokyo Revengers
Episodes 1 to 2
The signs are good for Tokyo Revengers as two episodes in, and the characters are already exciting and the set-up compelling.
Takemichi Hanagaki ends up travelling back through time, to his school days, when he was much cooler. His mission? Save the only girl who was nice to him. It's unsaid, but the implication is that this is a second chance on his life too.
The catch? He's a weak-willed idiot right now, and travelling back to a time of gang fights and friendships hasn't magically given him a backbone. As a result, we've seen him beaten up a lot.
I wonder a lot about paradoxes in this show. I'm sure we'll see the implications of his meddling in the timeline, but if he's successful in changing the past, why would he need to go back and change it in the future?
Episode two ends just with hints that our "hero" is finally getting his act together, but I won't be surprised if it turns out to be a feint by the writers.
Status: Good.
Where: Crunchyroll
To Your Eternity
Episode 1
It's unusual, even in an anime, to have a main character who is a pebble. Nothing except weather happens to our pebble in the opening scenes, and yet it's strangely compelling.
The plot then lurches forward with a wolf, then a boy and a wolf, then just the boy, getting the tempo spot on. However, that's not entirely true as we're still the magic pebble, and we're about to explore the world through their strangely innocent eyes.
I'm not yet clear on the To Your Eternity timeline. I suspect there may be post-apocalyptic elements in play, but it's too early to tell how dominant they'll be.
My concern is about the "So what?" aspect of a magical pebble on tour. Will it become caught up a plot that the audience also cares about? Will we dig into the mysterious past of the magical pebble? Will, we just meet a series of interesting people, which is a possibility, but one I'm not sold on.
It's unusual to have an entire first episode just set up to introduce a character and still know nothing about them.
Status: Average.
Where: Crunchyroll
86 Eighty-Six
Episodes 1
I've been wrong-footed by 86 Eighty-Six.
The show's premise was made clear before the start; two nations are at war, but they say no one is dying since they're using drones to battle. The catch? There's an eighty-sixth district, and the people there are secretly forced into being pilots.
I thought the show would be about discovering that and what the heroes do about it.
Not so far. So far, the "86ers" are an open secret, and no one seems to care. Our hero is the exception, a talented "controller" (someone who orders the drones around) who appears to have wrinkled her nose enough at the situation to get herself moved into a dangerous mission.
We just need to see whether the anime has somewhere to go with this story if it's not going to be a reveal and if the whole concept of a semi-secret district stands up to plot scrunity.
Status: Average.
Where: Crunchyroll
Don't Toy With Me, Miss Nagatoro
Episode 1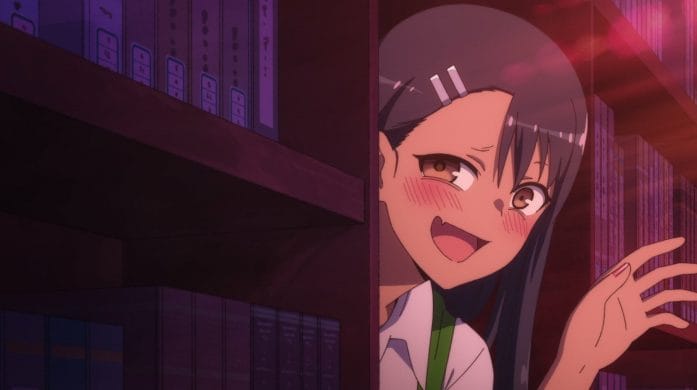 We've a confident and laddish girl who decides to pick on a shy and bookish guy.
It's perhaps a sorry statement that confident young women are seen as threatening by some men. However, Miss Nagatoro has crossed the line into being a bully several times in this first episode with only hints that she might be redeemed. Our male character, on the other hand, seems intimidated by everything.
With mixed horror and curiosity, I couldn't look away during the first episode of Don't Toy With Me, Miss Nagatoro. I guess that means it's hitting some empathetic notes.
My prediction; Nagatoro actually likes the guy. However, I'm already doubting whether she turn her attitude around quickly and fully enough to deserve any role other than a villain.
That, I suspect, is the line the anime will tightrope walk across as its plot.
Status: Average, just.
Where: Crunchyroll
I've Been Killing Slimes For 300 Years and Maxed Out My Level
Episodes 1 to 2
An office worker in Japan works herself to death. Before she's even 30, while still at work, she just keels off her chair.
The good news is that god has a soft spot for her and grants her a new life tailored to her new desire for a stress-free, long and happy life.
That wish comes true by being incarnated into an immortal but seven-year-old seeming body and with magic. Newly cast as a friendly witch out in the highlands somewhere, our hero earns a residue income by taking down slimes on her daily walks and trading them into the local adventurers guild office.
… for 300 years.
I really enjoyed episode one. Yes, it's another isekai, but it had a different pace to it.
Sadly, episode two is much weaker as news of the undying witch and her slow, but a successful aggregation of experience points results in a series of challenges.
Status: Weak average.
Where: Crunchyroll
If you've discovered any anime that is hit or miss, consider letting us know in the comments below.