Last year, Modiphius released Star Trek Adventures: Klingon Core Rulebook.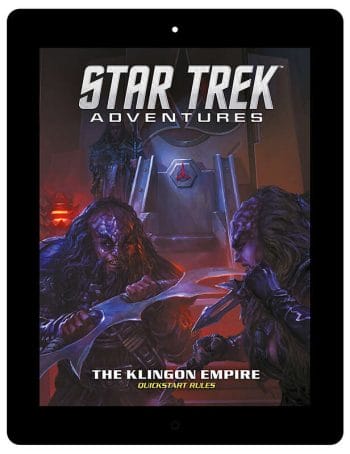 The publisher had been selling Star Trek Adventures: Core Rulebook since 2017. The Klingon book was not a supplement or a campaign; it was an alternative version of the core rules and a standalone game.
This week, Modiphius released a free Star Trek Adventures: Klingon Quickstart.
Just as the original core rules have a quick start, so does the Klingon version. The download is 37-pages long, comes with six pre-generated Klingon warriors, a summary of rules and an adventure to drop you into the glory of battle.
The adventure is "The Tip of the Bat'leth", is written by Fred Love and inspired by the illustration of Klingon warriors storming into a room by Nick Greenwood.
Jim Johnson, who commissioned the adventure, wrote in a blog post;
I reached out to Fred and gave him the details, showed him the image, and offered him the opportunity. I'm grateful that he accepted and delivered a fun, fast-paced Klingon-specific adventure. I hope this quickstart serves as a worthy introduction to both the Star Trek Adventures roleplaying game and the specific Klingon mindset we're striving to present in the Klingon line of products.
Quick Links
Keep scrolling to discover what others think about this article.