Inspired by apocalyptic horror of Sweet Home and Cthulhu mythos, Zadmar Games have published a free to download RPG called Deep Trouble in Oldport Bay.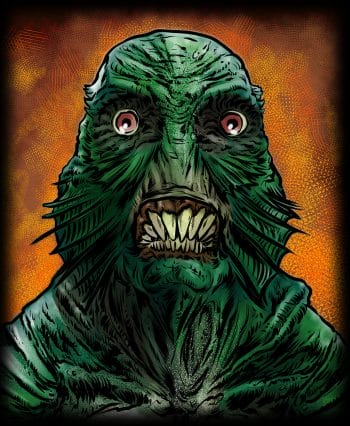 It was the bright cover that caught my attention first. I didn't even notice it was Zadmar until minutes later.
Geek Native readers will have come across freebies from Zadmar before with games like Sahmahin Slaughter and Chrome Shells & Neon Streets, both of which used DriveThruRPG's preview system to let you have the game free while leaving the option of a Pay What You Want donation later.
Deep Trouble in Oldport Pay is on Itch.io. That feels like a much more suitable home for the game.
It's a two-paged game complete with layers, so you can strip colours out for a cheaper and cleaner print.
Several days ago, an immense storm ravaged the coastal town of Oldport, knocking out the power lines and phone masts, and flooding the streets with several feet of water. By the next morning, the worst of the storm had passed, but a mysterious black obelisk had appeared in the bay.
Many people attempted to escape on boats or makeshift rafts, only to discover something malevolent and ravenous lurking under the murky waters. Those who remained behind faired little better, as some citizens mutated into horrific fish-like creatures, and began preying upon their former kin.
Deep Trouble in Oldport Bay is both a micro-RPG and a setting for whichever system you want. The micro-RPG starts with character generation in which you have a trait such as agile, brawny or crafty, a concept, a perk, a quirk and three karma and resolve tokens.
Challenges are resolved by rolling 1 to 3 d6 and getting a 4, 5 or 6 on at least one. The more successes, the better.
Dice are rolled to try and stay alive in the disastrous aftermath of the obelisk appearing in the town. Those karma tokens can be spent to reduce difficulty if your perk can help you. Failure to succeed at dangerous actions cost a resolve token. Both pools can be sorted.
You are a group of survivors, holed up in your apartment complex. A couple of days ago, one of your neighbors transformed into a monster, killing several residents before escaping down the elevator shaft. But where is it now, and are there more of them? Will you attempt to escape, or wait to be rescued?
The second page of the download focuses on generators or selections for objectives, locations and complications for survivors trying to get about or flee the bay.
Quick Links