Loke has won awards for their battle maps and stick to a recipe if simplicity and quality. Their cartography looks tremendous, and by putting card maps in a humble ring-bound book, the company makes sure the designs lay flat on tabletops and that plans can be pushed together to form all sorts of larger structures.
There are about two weeks left on Loke Battle Mats' seventh Kickstarter, and they're on track to recruit more than 3,000 backers for The Wilderness. That's enough to smash the £25,000 asking price, and there's more than £135,000 pledged so far. You can check out the latest tally or join in from the project page.
It's a heavy set, and the case includes two books of 80 cardboard maps. I think I'd rather have this delivered than cart the weighty tome around a gaming convention for a day (remember those?).
The set includes hills & grass scrub, grasslands, grass canyons, riverlands & lakeside falls, sand & sand dunes, sand canyons, ancient forest & forest ruins, forest, mountain, snow & frozen tundra, sea & snow coastline, watchtower & beach, caves, swamp, moorland, ravine, coral bay & islands, volcanic and jungle. There's also the potential for that to grow or for a blank map to be included.
The Wilderness is printed at 300 DPI and follows up the Towns & Taverns and The Dungeon sets.
In addition to the core product, the Kickstarter includes tokens, a 5e adventure, card decks, a GM screen and even an extra-large wooden d20!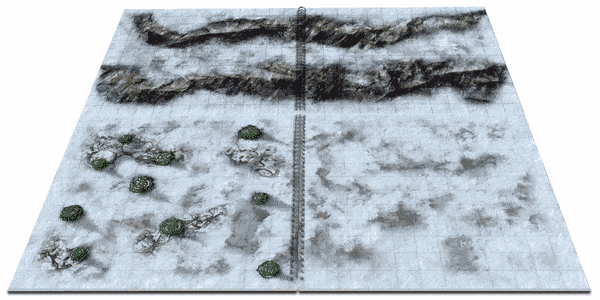 A pledge of £8 will get you the digital wilderness set, and that's 110+ digital maps with 90 tokens, with the 50+ page The Stolen Song 5e adventure, 100+ pages of random wilderness encounter generator and all digital stretch goals. That's a lot!
The physical product is included in the £31 tier, and with that, you get all the digital content. However, shipping is not included, and you'll have to add that later. Loke is offering to tackle "anywhere in the world" deliveries.
The pledge tiers go much higher as some people will want to buy multiple copies of the books.
The estimated delivery of digital products is really soon; April 2021. The physical maps will be a little while longer and have an estimated delivery date of December.