🐙Sponsored Post paid for by Geek Native. We may earn a commission on sales.
Humble Bundle is currently hosting a three-tier bundle from Asmodee Digital. Many of us may still be in lockdowns but, with the Tabletop 2gether bundle, the hope is we can still enjoy gaming nights.
Digital board games and card games are in the pack, and all are redeemed through Steam. There's $141 worth of games on offer with the first tier being less than a quid.
Pay £0.73
Pandemic: On the Brink – Virulent Strain
Small World
Small World – Grand Dames
Pandemic: The Board Game
Love Letter
Pay more than average
The cost of this tier changes over time, going up as people meet its asking price.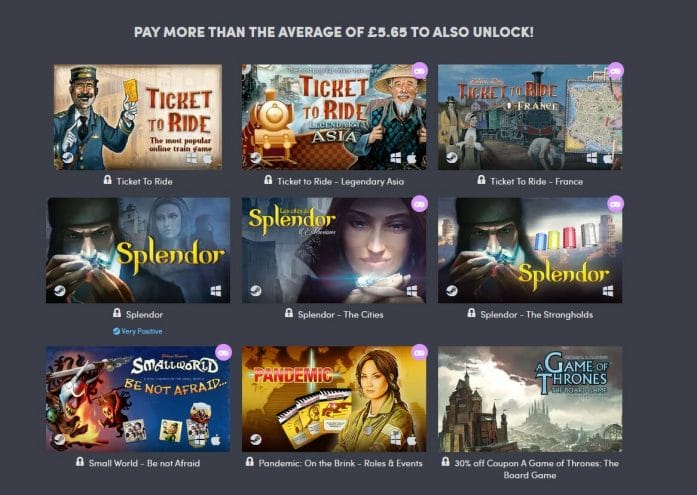 Ticket To Ride
Ticket to Ride – Legendary Asia
Ticket To Ride – France
Splendor
Splendor – The Cities
Splendor – The Strongholds
Small World – Be not Afraid
Pandemic: On the Brink – Roles & Events
30% off Coupon A Game of Thrones: The Board Game
Pay £7.32
Terraforming Mars
Blood Rage: Digital Edition
The Lord of the Rings: Adventure Card Game – Definitive Edition
Small World – Cursed
Ticket to Ride – Europe
Quick Links
What do you think? Let us know in the comments below!