Tim Obermueller is offering up a Mothership RPG compatible adventure for Kickstarter's Zine Quest 3.
The Burning of Carbex is a three-part horror adventure where a parasite is mutating its hosts and threatening to spread across the galaxy. The funding goal was $1,075, and Kickstarter likes the pitch as, with just a day into the project, there's already more than $4,000 pledged. You can join in, try and avoid the parasite and pledge at the pitch page.
The project includes six new enemies and a template to transform any lifeform into a murdering mutant, three locations, twenty artifacts and a story branch into the next chapter.
You can even get a good idea of the look and feel of The Burning of Carbex as Obermueller has provided a preview teaser for the adventure. You can check it out here.
Carbex was once covered in lush forests, before the fire. Everything burned, except for some silverfish-like insects who fled underground. Millenia later, coal miners break into their refuge.
A pledge of $11 (about £9) will get you a PDF of The Burning of Carbex as well as a PDF artbook.
Stepping up to $17 adds a 5.5″ x 8.5″ print of the zine and stretch goals. This is the most popular tier at the time of writing.
$30 is required to get both books in print, and there are higher tiers.
No matter which pledge level you go for, the expected delivery is an early June 2021. Shipping ranges from $5 to about $25 based on estimates.
The art from The Burning of Carbex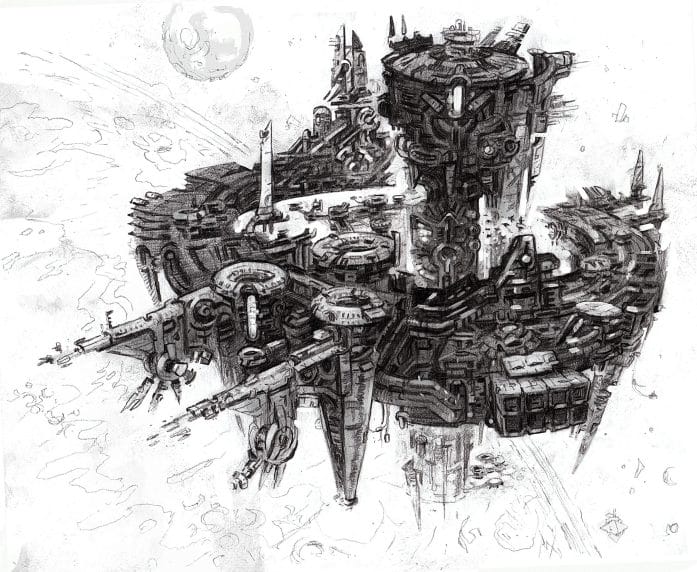 Geek Native readers may have been able to expand on this post. Scroll down to the comments below to discover what the community has been able to add.