Mentioned October's Routinely Itemised: RPGs #69 was Jay Merritt's Realm Fables Kickstarter project.
The campaign to bring source-books of micro-settings, tools and generators to make them did very well. Merritt's Shieldice Studio picked up over 1,000 backers who pledged more than £23,000.
Teasers for the results of the Kickstarter have been shared on Instagram. In this post, though, I want to look at two shared on Reddit.
World-building Chart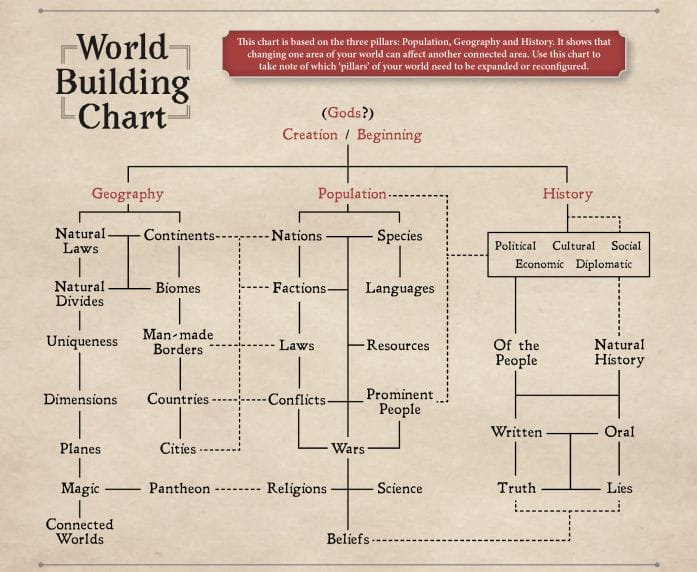 The graphic is intended as a mind map or a checklist for kick-starting world-building exercises. At its heart, it reminds us that things are connected.
There are three pillars; Population, Geograph and History to any world and these are connected. The dotted lines show the connections when they cross between pillars, for example, cities from the geography pillar are connected to the concept of nations from the population pillar.
Shieldice Studio's world-building chart won't create a world for you, but it will help you to design a thoughtful one that has a better chance of surviving scrutiny from the players!
D6 Quick-build world-build
On the other hand, if you need a setting quickly, then Shieldice Studio's D6 system could help you out.
Firstly, pick up a handful of d6 (10 is suggested as a starting point) and let them roll. The faces of the dice then represent elements of interest in the world; locations, settlements, a divide (like a river), flatland, dungeon or a canopy (like a forest).
Missed the Kickstarter
A quick look at the campaign page shows that Jay's backers are very pleased with the digital downloads.
The question remains; if you missed out on the Kickstarter, can you get a copy of Realm Fables? We'd hope so, but Geek Native has reached out to enquire, without response yet.
Geek Native welcomes thoughtful comments from our favourite readers. Join in below.